UFV is known as the type of workplace that people stay at for a long time.
And those people bring a combination of dedication, experience, and accumulated wisdom that makes for an enriched student experience, both inside and outside of the classroom and lab.
Several groups of long-term employees were honoured recently at celebrations for those marking 10, 20, 25, and 35 years at UFV.
The 10-year employees were recognized at an afternoon ceremony featuring hors d'oeuvres and kind words from UFV president Mark Evered, Board of Governors chair Barry Delaney, and Faculty and Staff Association president Vicki Grieve.
Employees who have served for 20, 25, or 35 years were feted at an evening ceremony at the Ramada Inn.
Delaney noted at both ceremonies that two years is considered a long time to stay at one job in the financial sector (in his day job Delaney is senior vice-president, business development at First West Credit Union). At UFV however, he said (only half in jest), that someone who has served nine years is considered to be just getting started and deciding whether to stay for the long term. He congratulated all of the employees for their dedication and noted that education is a particularly satisfying field to work in.
Both Evered and Grieve thanked the employees for their commitment to the university and to serving students. Chancellor Brian Minter also attended the evening ceremony and expressed congratulations.
35-year employees (2014)
Sybille Stegmueller
Kartar Thandi
25-year employees (2014)
(Full list): Carol Ambridge, Deborah Block, Diane Griffiths, Dianne Hicks, Jackie Hogan, John Martin, Kulwant Gill, Laura Larson, Lesley Spier, Lisa Kwak, Margaret Slabicki, Moira Gutteridge Kloster, Nancy den Boesterd, Nancy Scarrow, Noreen Dragani, Rolf Arnold, Susan Milner, Vera White-Phipps.
20-year employees
(Full list): Carol Konkle, Christine Carter, Cyrus Chaichian, D.J. Sandhu, David Chu, David Harper, Eddie Campbell, Heather LeGood, Isabel Hay, Jeffrey Morgan, Karmjit Sidhu, Elizabeth Hughes, Mark Ryan, Miriam Nichols, Noham Weinberg, Peter Mulhern, Rhonda Styles, Bruce Kirkley, Sylvie Murray.
An HR century!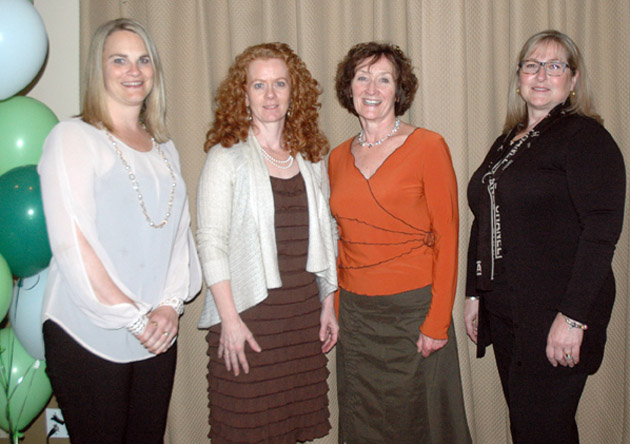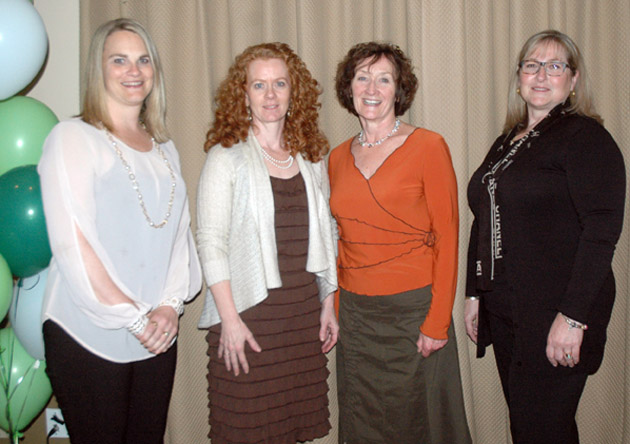 Collectively, these women have worked for UFV for 100 years, mostly in the Human Resources department (through various departmental name changes). Left to right: Lisa Kwak, Nancy Scarrow, Diane Griffiths, Dianne Hicks.   
The university's longest serving staff employee, Alan Stokes, is retiring this spring after 39 years.