Visual Arts associate professor Shelley Stefan is in the middle of a two-week teaching exchange with the Sichuan Normal University of Chengdu, China. And everyone who meets the prerequisites is welcome to take the free course to be offered by her exchange partner in Abbotsford.
Stefan is delivering a Contemporary Painting class to 25 Chinese students from the SNU Fine Arts College. Stefan's course is entitled "Smart Art: Lessons in Contemporary Painting" and it is one half of a two-part series, making up an exciting exchange — the first of its kind — between the Fine Arts College of Sichuan Normal University and the UFV Visual Arts department.
See photos of Stefan's visit to China here.
Stefan's class will end with a group art exhibition on Chengdu's East campus, showcasing the successful works of the Sichuan students and the growth that was obtained from this cross-cultural academic exchange.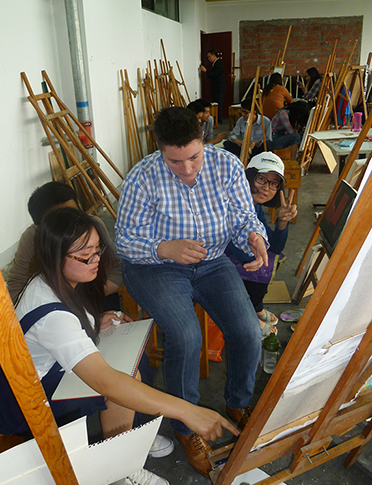 Part two of the exchange begins this June when associate professor and vice dean Tang arrives on UFV campus for the Chinese Painting component, involving plein-air (outdoor) and traditional Chinese paintings studies.
The course at UFV is free and open to any current or former UFV student who has taken VA 223 (VA 123). Register in person at OReg under Continuing Ed. The course is entitled Chinese Landscape Painting (VA01), and the course code is CRN 40306.
For more info on the project or questions about enrolment for the Chinese Painting component, please contact Shelley Stefan at shelley.stefan@ufv.ca or Vicki Bolan at vicki.bolan@ufv.ca.