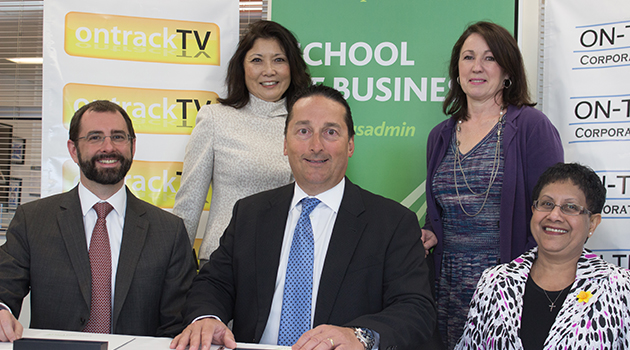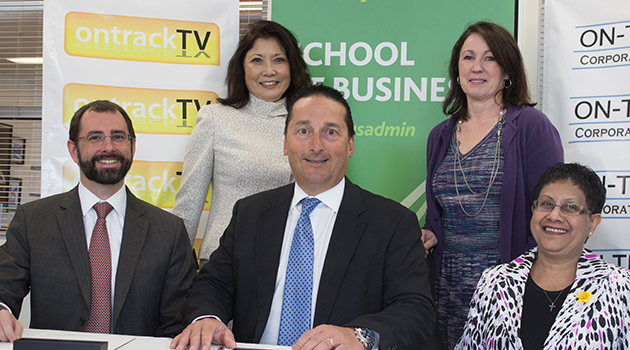 UFV students will have enhanced access to online learning opportunities thanks to a new partnership between the university and Quizam Media Corporation. Dr. Rosetta Khalideen, UFV's Dean of Professional Studies, and Dr. Frank Ulbrich, Director of the School of Business, joined Russ Rossi, President & CEO of Quizam Media Corporation, to sign a memorandum of understanding (MOU) on behalf of their respective organizations on April 2.
The partnership formalizes a path for developing UFV's project plan to access and customize ontrackTV (www.ontracktv.com) content for labs, self-paced learning, and other purposes related to UFV credit and non-credit courses. The goal is for UFV to work with ontrackTV to help meet UFV's strategic plan goals for online delivery.
In particular, the two organizations will work together on learning opportunities associated with the UFV School of Business, where the first course is planned for the Winter 2015 semester.
"Students will be able to access their lessons anytime, from anywhere, from any mobile device, while faculty track attendance and grades," said Rossi. "Our colleagues at the UFV School of Business are proving their innovation by thinking about and adapting to the learning styles of the newer generation."
Ulbrich says that he looks forward to the collaboration between UFV's School of Business and Quizam Media Corporation.
"This is historic, as we will be the first business school to offer such flexibility for a BBA program," said Cindy Stewart, an associate professor at UFV.
On-Track Corporate Training and ontrackTV are divisions of Quizam Media Corporation (http://www.quizammedia.com/ stock symbol QQ-V), a Vancouver-based Canadian corporation listed on the TSX. . In 2010 they were named as one of the TSX Venture 50, a group of 50 companies the exchange had identified as leaders on Canada's public venture market (http://www.tmx.com/en/pdf/Venture50.pdf).