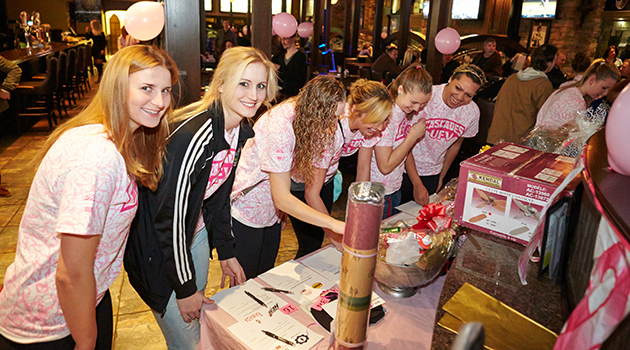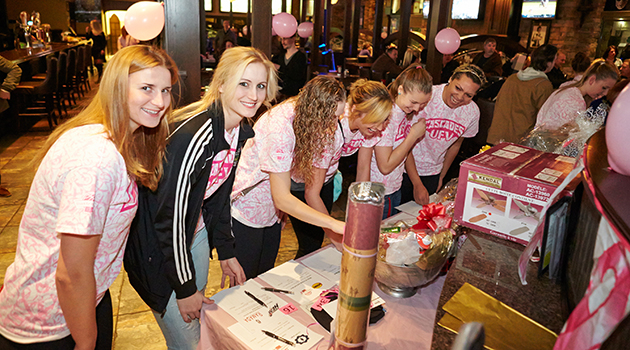 The Cascades women's basketball team helped raise more than $4,100 for the Canadian Breast Cancer Foundation during their second annual Shoot for the Cure Pub Night and Silent Auction at Finnegan's Pub.
More than 30 items were up for silent auction on the Jan. 30 event, ranging from a Harrison weekend getaway to oil changes and spa pedicures. The highlight of the night was speaker Bonny Kelly, a breast cancer survivor who spoke movingly of her courageous battle with the disease. Musician Greg Neufeld provided entertainment for the event, which was emceed by Cascades colour commentator and CIVL Radio station manager Aaron Levy.
Deemed a success by event organizer Alexa McCarthy, the Cascades women were pleased with the outcome of the Shoot for the Cure event. "We are excited about the success of the weekend and are proud to be part of a group that has raised more than $600,000 for the Canadian Breast Cancer Foundation," McCarthy said.
Head coach Al Tuchscherer who has seen the event grow since its launch in 2007, has always been a strong supporter. "The fight against breast cancer is such a passionate topic for so many in our basketball community," said Tuchscherer. "As young women and leaders in the community this is an important initiative for the players to help draw attention to and support."
Since several of the 45 contributing CIS women's basketball teams are yet to host their Shoot for the Cure events, nationwide fundraising figures are not yet available. As is tradition, a check will be presented to the Canadian Breast Cancer Foundation on behalf of all participating teams during half-time of the CIS Women's Basketball Championship game on March 16 in Windsor, Ontario.