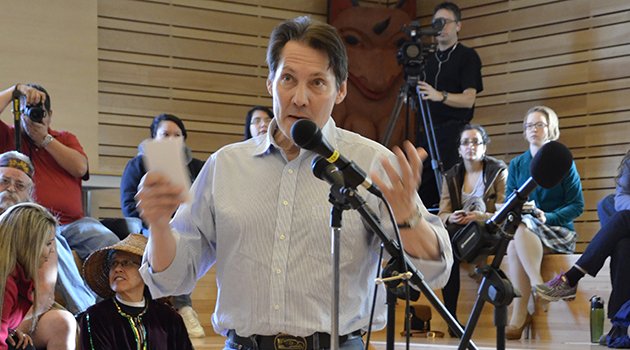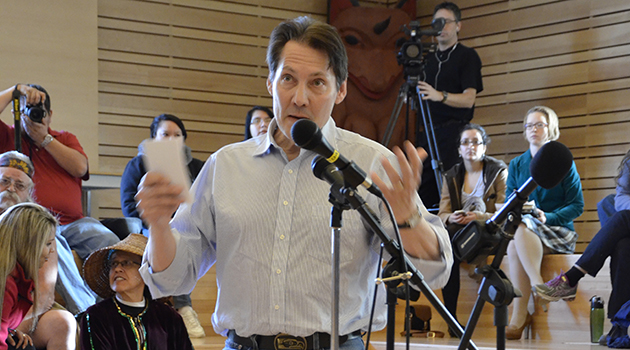 Hope has emerged from a recent report on Aboriginal news coverage featuring UFV social work and human services instructor Robert Harding.
Conducted by Journalists for Human Rights, which has trained more than 12,000 journalists in 21 countries to report ethically and effectively on human rights issues, the report — Buried Voices: Media Coverage of Aboriginal Issues in Ontario — monitored 171 publications using quantitative analysis of media coverage examining trends, news spikes, and tone of media focused on Aboriginal people.
Under the direction of lead writer Robin Pierro, the report's findings were handed over to Harding and four others (Jorge Barrera, Cindy Blackstock, Duncan McCue, and Mike Metatawabin) for consideration.
"Essentially it echoes everything I've seen in the past," said Harding, a contributor to numerous studies of Indigenous representation based on traditional content analysis.
"But there is hope for the future, especially considering the continuation of JHR's ongoing programs in northern Ontario, and events like UFV's Indian Residential School Day of Learning."
The report offered three conclusions regarding coverage of Aboriginal people in Ontario media: the Aboriginal population is widely underrepresented in mainstream media; when Aboriginal people choose to protest or 'make more noise' the number of stories focused on the community increased; and as coverage related to the protests and talks between Aboriginals and government became more frequent, the proportion of stories with a negative tone correspondingly increased.
During the report's  first examination period (June 1, 2010 to May 31, 2011), 1,084 stories focused on Aboriginal issues, of the 707,464 media stories produced in total — 0.15 % of all stories produced.
The second examination (June 1, 2011 to May 31, 2012) saw 1,610 of 708,282 stories focused on Aboriginals (0.23% — an increase of 29%), and the third period (June 1, 2012 to May 31, 2013) had 3,338 stories (0.46% of all news stories produced, at 9.8 stories per day  – an increase of 61% compared to the previous examination period).
The Attawapisat housing crisis dominating 2012 coverage (22%), falling slightly behind the Idle No More movement in 2013 (31% and 25%).
Additionally, 2013 featured more than twice as many negatively toned stories as positively toned stories.
In the report, Harding agreed with the challenges journalists covering Aboriginal issues face.
"Many reporters lack the knowledge of history and context that is essential for understanding complex issues that have long historical antecedents," Harding said. "Furthermore, they often lack the tools to work with Aboriginal sources and issues in an effective and culturally sensitive way."
Ultimately, Harding suggested the quality in Aboriginal reporting could be improved if reporters were more committed to reaching out and visiting the communities they're reporting on. Publications could also hire more Indigenous journalists with inherent knowledge of native culture, and consider speaking with Indigenous people more often about stories as routine as the weather or interest rates.
For now, Harding says strides are already being made by bringing Indigenous culture and history to the forefront through events such as September's special day of learning at UFV focusing on the Indian Residential School experience.
"Having UFV stand up and say that this is very important, and we are going to take extraordinary measures and devote that day to all aspects of learning about this horrendous experience is exceptional," he said.
"That really means something … it's walking the walk, not just talking the talk."
To read to full report, visit http://www.jhr.ca/en/aboutjhr/downloads/publications/buried_voices.pdf.