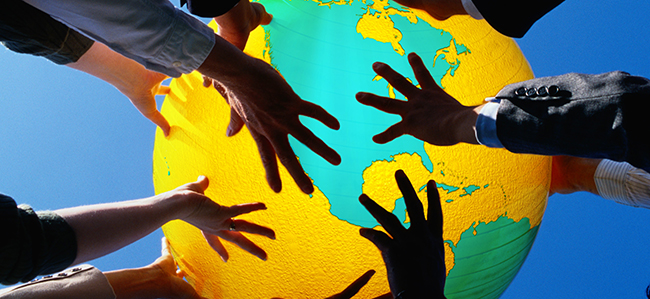 UFV celebrates diversity from November 18 to 22 with a line-up of cultural events at the Abbotsford campus.
Mon, Nov 18 – Alumni Hall, 11:30 am
Professional Studies celebrates internationalization
Kick off International Education Week at UFV with a celebration of everything international, sponsored by the Faculty of Professional Studies. The event starts at 11:30 am in Alumni Hall, in B building on the Abbotsford campus, with presentations and cultural performances from around the world. Activities include displays and a reception from 1-2 pm in the cafeteria (downstairs in  B building ).
View photos
Tues, Nov 19  – A254, 4–5:30 pm
Learn how to make a piñata
Come to room A254 on the Abbotsford campus and make your own piñata in this fun session organized by UFV Modern Languages Institute (MOLA). Traditionally, in Latin America, piñatas filled with candy and treats are hung up for children (or children at heart) to break with a stick as part of a party or celebration.
View photos
Tues, Nov 19 – B101, 5:30 pm
Cine Latino film screening – La lengua de las mariposas
Cine Latino will show La lengua de las mariposas (Butterfly), a coming-of-age story during the Spanish Civil War, by director Jose Luis Cuerda. The movie is in Spanish with English subtitles. Admission is free for all UFV students, staff, and faculty.
Wed, Nov 20, near Tim Horton's (Abbotsford campus), 10 am–2 pm
Study Abroad showcase
Did you know you can study abroad while earning UFV credits? Come and explore more than 40 destinations from which you can choose, and chat with students and staff from UFV Study Abroad.
Thurs, Nov 21, the Breezeway, 9 am–1 pm
Fair trade coffee and teas giveaway
UFV Oxfam will give away free fair trade coffees and teas in the breezeway between A and B buildings on the Abbotsford campus to raise awareness about sustainability, poverty, and injustice in the developing world. Coffee is courtesy of the Press Café at the UFV Bookstore.
Thurs, Nov 21, B121, 9–11 am
Roundtable event – The Charter of Rights and Freedoms: what does it mean to us 30 years later?
Join UFV panelists Hamish Telford, Lorna Andrews, and Sidrah Ahmad in room B121 on the Abbotsford campus for a lively discussion about the history and implications of the Charter. Coffee and tea will be served. The event is co-sponsored by RAN, Race and Anti-racism Network, Abbotsford Community Services, UFV Centre for Safe Schools and Communities, UFV Teacher Education Program, and UFV Teaching and Learning.
Fri, Nov 22, U House, 4:30–7:30 pm
UFV International Weekend Kickoff
Everyone – students, staff and faculty – is invited for UFV International's final Weekend Kickoff of 2013 at U House on the Abbotsford campus. Join us for an evening of international food prepared by UFV students and staff. The menu will feature dishes from the Dominican Republic, India, Japan, Korea, and Spain. It is delicious and free!