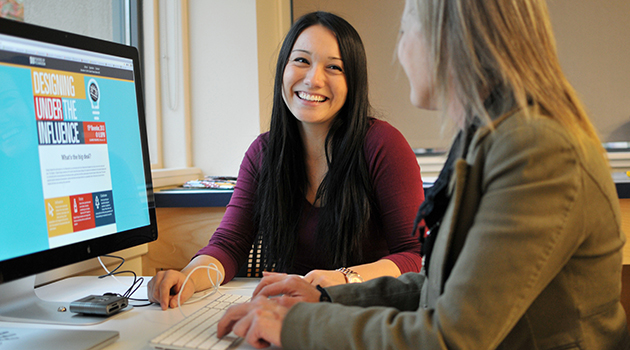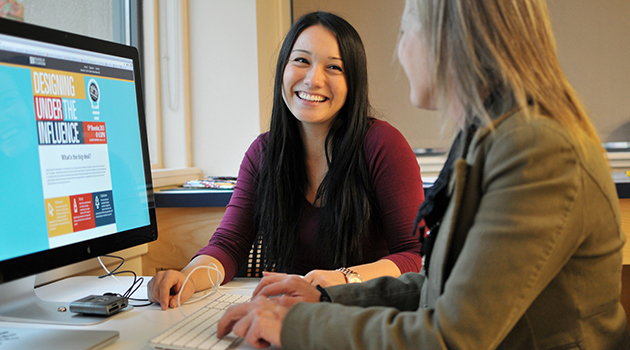 The global PechaKucha phenomenon lands in Mission this month along with local movers and shakers for a night of good cheer, great design, and fundraising for future UFV design grads.
Hosted by UFV's Graphic and Digital Design program (GDD), the Designing Under the Influence (DUI) event combines a gallery of GDD creations with Powered by PechaKucha, at which 10 speakers will present 20 images each, with the images advancing automatically every 20 seconds. It runs 6:30 pm Friday, Nov. 15 at the Clarke Theatre in Mission (33700 Prentis Ave).
(See photos of GDD students preparing for DUI here.)
"It's action-packed and extremely visual," explains GDD program head Karin Jager.
"It's going to be highly entertaining."
By taking the slide speed out of presenters' hands, sessions are forced to move along on a high-speed schedule. As explained on the PechaKucha website (www.pechakucha.org): 'Give a microphone and some images to … most creative people … and they'll go on forever…' The PechaKucha format encourages them to be concise and energized.
PechaKucha events are all the rage, with short, succinct bursts of information being as easily digestible as the recipes artfully presented in the GDD program's upcoming cookbook, titled Appetite for Design. Both DUI and Appetite for Design are fundraisers for a portfolio exhibit and grad show to take place in April for the class of 2014 — the first class to graduate since UFV's Graphic Design program was re-instated after a 10-year hiatus, thanks to the District of Mission providing $500,000 in seed funding.
Organized by students, DUI provides real-life lessons in event planning, networking, branding and presentation. The schedule will allow about 45 minutes of mingling following the evening's first five presenters, giving the audience time to ask more in-depth questions, or just enjoy the tapas appetizers and cash bar.
It's a real-world project that Jager feels will open the eyes of anyone interested in design on any level, as it will feature communication design, urban planning, storytelling, web and environmental interaction, design for good, cultural events, social media marketing and branding.
"It'll give a new perspective about what design is," she says.
"There's a lot of variety; we'll be talking about the power of design in very a different way."
DUI presenters include: Dave Perritt (Grab-a-Java); Sharon Fletcher (District of Mission); Francis Xavier Edwards (Mission Folk Festival); Summer Dhillon (Slap Communications); Tim McAlpine (Currency Marketing); Julius Siebenga (Abbotsford Christian School); Crystal Lee and David Lam (Brambleberry Tales); Patrick Cotter (writing and editing professional); Ryan James (Domain7, Seattle); and Johnathon Vaughn Strebly (President, B.C. chapter of Graphic Designers of Canada).
For more information, visit designingundertheinfluence.com or email DESIGNmission@ufv.ca.