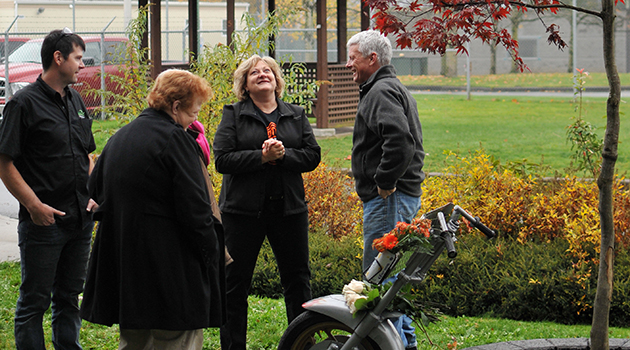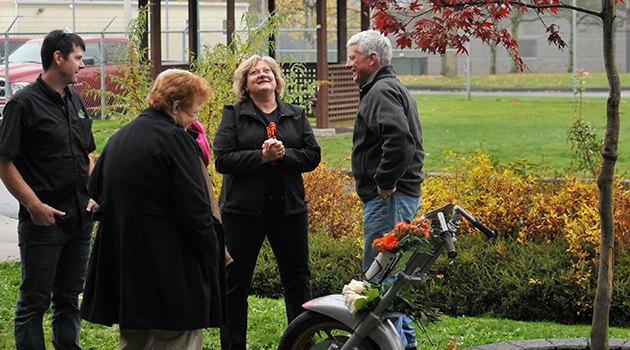 A crowd of 50 family and friends gathered outside UFV's Trades and Technology Centre recently for a fitting celebration of beloved former employee Keith Newport, who passed away suddenly on June 30 at the age of 55.
Trades and Technology director Rolf Arnold — together with Corry, Keith's wife of 35 years— unveiled a stainless steel plaque featuring Keith's photo above the words 'Beloved member of the TTC family — gone but not forgotten'. The plaque is mounted on a custom stand created by long-time friend and co-worker, Kevin Brennan featuring the front end of one of Keith's motorcycles. Behind it stands a Japanese maple tree planted in Keith's honour (see photos here).
"The folks in the Faculty of Trades and Technology feel very fortunate to have become so closely connected to Keith, Corry, and family," Arnold said.
"We truly miss Keith and are pleased that we have a lasting memorial that will help us honor Keith's memory into the future."
Keith joined UFV on Sept. 29, 2008 as a program technician and had a huge presence in the community — working with the Special Olympics, volunteering as a firefighter at halls in Greendale, Abbotsford, and Sardis, serving on the executive of the Old-timers hockey association, and actively participating in the local motorcycle drag racing scene.
As the much-loved driving force that brought coworkers together, Keith proved that without a doubt you can't judge a person by their appearance . . . because behind his tattooed and tough-looking exterior was a man with a warm smile and a huge heart who dropped anything to help a friend.
Brent Bailey from UFV's Agriculture department built the concrete block planter for the tree, which was donated by Tom Bauman of Baumann Nurseries on behalf the Agriculture department. Keith's ceremony was held Nov. 1, and his plaque can be viewed near the Rivers Dining Room outdoor entrance.