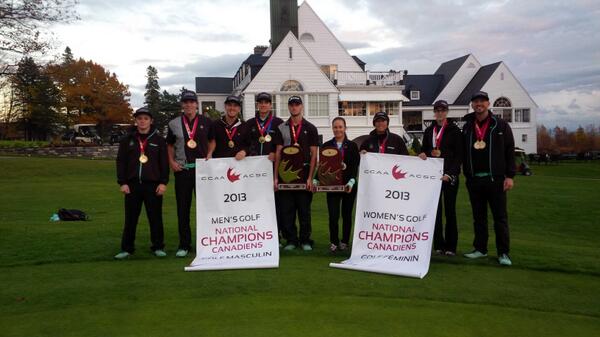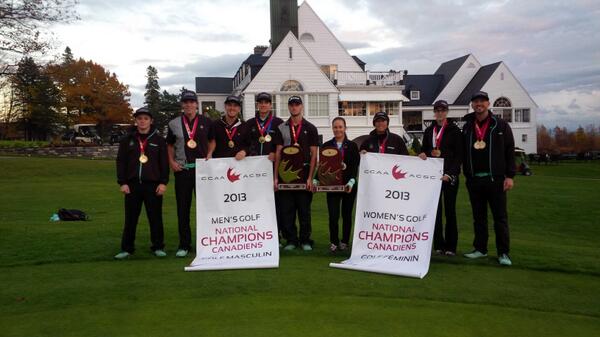 The UFV Cascades men's and women's golf teams both captured the 2013 CCAA national championship titles on Oct 18 at the Royal Quebec Golf Club, in Quebec City, Quebec. This marks the program's first national titles for both teams and the first double national championship since the Humber College Hawks (OCAA) captured both titles six years ago.
The men won the three-day tournament with a combined score of 863, 12 strokes better than the silver medalists and four-time defending champions Humber College Hawks (OCAA) with a team score of 875. The Pacwest's Camosun College Chargers earned the CCAA bronze medal with a score of 881. The Cascades' scores (daily) were 283, 290 and 290. They won the first two rounds but finished two strokes behind Camosun today, with a score of 288. Today's two-stroke loss was UFV's only second-place finish all year. They had come into today's round undefeated, winning every round in the PACWEST regular season  and at the CCAA nationals. There were 15 teams from the five conferences participating in this week's championship.
Cascade Aaron Pauls of  Chilliwack finished second with a three-day score of 211 to earn the national individual silver medal. Cascade Darren Whitehouse of Langley finished third overall with a score of 212. The overall champion was Colton Kalkanis, Georgian College (OCAA) with a score of 201. The top five are CCAA tournament All-Stars.
The women won the CCAA national championship with a three- day score of 461, 24 strokes better than silver medalists St. Clair College Saints (OCAA) with a score of 485. The Humber College Hawks (OCAA) earned the national bronze medal with a score of 493. The team's three-day scores were 153, 149, and 159. UFV won all three rounds of golf played this weekend at the championships.
UFV's Jen Woods (from Kamloops) finished second overall for the three-day event, earning the CCAA national silver medal, with a score of 225, 14 strokes behind the gold medalists Valerie Tanguay of Champlain St. Lawrence with a score of 211. Cascade Dani Shap of Mission earned the national bronze medal with a score of 236. The top three CCAA golfers are tournament all-stars.
"I am very proud of both teams they were excellent all season long.  Going undefeated is a great accomplishment," commented UFV head coach Chris Bertram.
For further information on UFV Cascades athletics contact David Kent, sports information, 604-309-7658 email: david.kent@ufv.ca