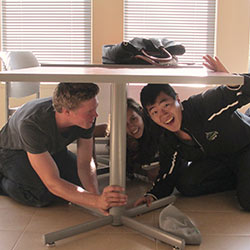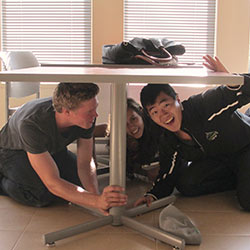 On Oct 17, 2013, at 10:17 am, Baker House Residence and the UFV Bookstore took part in the Great BC Shake Out event. More than 100 residents, including UFV Bookstore staff, participated in the drill by dropping, taking cover, and holding on when a simulated earthquake hit.
UFV resident assistants donned their emergency gear and gathered the students in the emergency assembly area, according to their respective floors. Some residents even evacuated the building not wearing any shoes and carrying their breakfast.
"It's good to always be prepared for an earthquake," said Jun Feng, one of the Baker House front desk assistants who helped with the drill. "Most countries in Asia do this type of drill because they understand the risk. So it is good that Canada does it too."
UFV students and staff joined more than 690,000 people in British Columbia who participated in the Great BC Shake Out. In total, an estimated 18 million people worldwide took the Shake Out as an opportunity to practise how to be safe in an earthquake.
UFV Security & Management department supported the Shake Out drill. As observers, they felt the exercise was a success, as did the UFV Residence Services team.
Read more about the Great BC Shake Out 2013