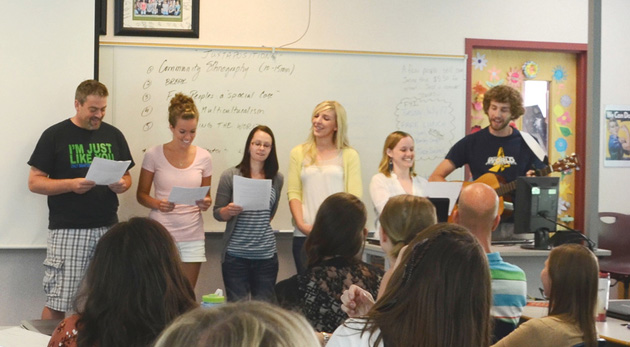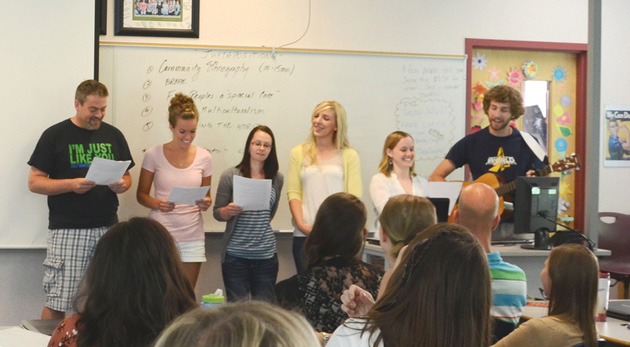 Future teachers who want to teach at the secondary-school level will be able to earn their qualifications at the University of the Fraser Valley starting in July 2014.
The secondary option is an addition to the elementary school option that has been offered at UFV since 2007.
If you've already earned a bachelor's degree, UFV's new 12-month, post-degree Teacher Education program (TEP) can open the door for you to become a secondary school teacher in public or private schools, locally or around the world.
If you want to find out more, UFV is planning information sessions for the new secondary teacher education option on Monday, Oct 7, from 4 to 5:30 pm in Room D138, and Wednesday, Nov 13, from 12 to 1:30 pm in Room D137, both on the Abbotsford campus. Sign up for an info session now.
(Those interested in the elementary option can attend sessions on Tues, Oct 1 from 11:30 am to 1 pm in Room D217, or Wed, Oct 23 in Room D137, both on the Abbotsford campus.)
To be eligible for the secondary program option you must have completed a Bachelor of Arts, Bachelor of Science, or Bachelor of General Studies degree, with a major or minor in a teachable subject area. Further requirements can be found at www.ufv.ca/teachereducation/.
UFV's Teacher Education program provides preparation in social justice, special education, indigenous education, and second language instruction to equip students to become forward-thinking educators. They also receive thorough grounding in methods, planning, and assessment to prepare them to make the most of their field placements.
In addition to extensive supervision during the program, students receive support as they transition out of the program to find employment.
A high percentage of UFV's TEP graduates find jobs each year in our local school districts. Secondary school teachers are in demand in the Fraser Valley — particularly in the fields of science and math.
Upon successful completion of the program, graduates are recommended to the Ministry of Education to receive a B.C. Teaching certificate through the Teacher Regulation Branch.
The secondary option of the Teacher Education program builds on 14 of the long-established core courses already taken by students in the elementary program and adds 12 new courses focused on designs for learning methods for the secondary level.  There will be a stream for students planning to teach in the math/science field, and one for those who want to focus on the humanities.
"The specialized secondary program courses are designed to foster a deep understanding of the content and pedagogies that maximize student learning," says Awneet Sivia, UFV Teacher Education department head. "We want our students, particularly those in the secondary program, to examine how knowledge about science, for example, can be transformed into rich and engaging learning experiences at the secondary level. Our students will also learn discipline-appropriate ways of assessing learning within disciplines."
The common foundation courses of the program, taken by both elementary and secondary options, have a strong emphasis on social justice and developing a reflective capacity.
Students will also be able to take a course in online instructional methods to prepare them for 21st century classrooms and a special topics course focusing on secondary specialties such as physical education, French, fine arts, or drama.
In addition to the already established partnerships with the Abbotsford, Chilliwack, and Fraser-Cascade school districts, student teachers will now also be able to complete practicum placements in Langley and at Seabird Island Community Band school on Seabird Island near Agassiz.
Local school district human resources personnel are excited about a new but familiar local source for secondary teachers.
"The Chilliwack School District has eagerly awaited the launch of the secondary module of the Teacher Education program at UFV," says Janet Carroll, a human resources professional with the Chilliwack School District. "While TEP has earned the respect of the Fraser Valley school districts for the integrity and professionalism of the elementary module, the addition of the secondary module marks its evolution as a fully realized professional preparation program for the whole K–12 system. The implementation of the secondary program ensures that local school districts will be able to recruit well-trained secondary educators who know, understand, and live in our communities.  We look forward to continuing our strong partnership with the Teacher Education program as the secondary module begins in July, 2014."
Sivia says that the secondary option will produce the type of confident, forward-thinking graduates that the school system needs as it evolves, just as the elementary option has been doing for several years.
"Our program really instills confidence in students, and equips them to work within the system while inspiring change from within. They develop a professional identity and set of competencies through the program that help them to work effectively within their profession while enabling it to change, grow and adapt to the demands of the 21st century.
"We are very excited to be offering this secondary option that responds to the original vision of our program – to provide highly qualified teachers for the whole spectrum of the K–12 system," she said.
– 30-