Barry Delaney, senior vice-president, business development, at First West Credit Union and long-time Abbotsford resident is the new chair of the UFV Board of Governors. Delaney succeeds lawyer Larry Stinson of Chilliwack, whose term expired this summer.
UFV's Board of Governors includes members appointed by government and elected faculty, staff, and students. The board governs the management, administration, and control of the property, revenue, and business of the university. Serving with Delaney are board members Stacey Irwin (first vice-chair), Randy Bartsch (second vice-chair), Angela R. Bennett, George Hemeon, John Pankratz, and Terry-Lynn Stone; elected UFV faculty and staff members Chris Bertram, Whitney Fordham, and Sean Parkinson; elected student members Nathan Abrahams and Theresa Coates; as well as UFV Chancellor Brian Minter and President and Vice-Chancellor Mark Evered.
"UFV's greatest strength is our people, and that includes our board members, both past and present. I would like to acknowledge the many contributions of outgoing chair Larry Stinson, and I look forward to the excellent leadership from the board continuing with new chair Barry Delaney," said Evered. "We are very fortunate to have such a talented and dedicated group of individuals who volunteer their personal time to serve on the university's board. They provide us with invaluable guidance in achieving our goals of educational excellence and leadership in the development of the Fraser Valley."
Delaney has been a member of the UFV Board of Governors since January 2012. Previously, he was connected to the university as a member and then as chair of the UCFV Foundation, which managed fundraising efforts before that function was integrated into UFV's University Advancement office. While serving on the foundation, he was part of the Friends of UCFV, a community group that lobbied successfully for university status for the former university-college.
Delaney is very excited about the future of UFV and the possibilities that are ahead for the university. "It really is a jewel within the Fraser Valley and a leader within Canada in so many areas. The university is a major employer in our region, a community leader, and it provides educational opportunities for so many students."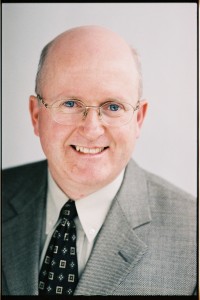 Delaney adds, "I love that UFV has a mandate to provide the best undergraduate education in Canada. It is exciting to be associated with an organization that operates and plans on such an ambitious scale nationally. As part of the board at UFV, it's our responsibility to help find new and innovative ways to close the gap between government funding and the increasing costs of running a university. Through our landholdings, the expertise of our employees, and the support of our communities, I truly believe it's possible to close that funding gap."
He is delighted that UFV is building a new agriculture facility at its Chilliwack campus at Canada Education Park, and putting a greater focus on agricultural education.
"It's a natural fit for us to further strengthen our offerings in the areas of agricultural studies, given our location in the heart of the Fraser Valley," he notes.
Delaney is pleased to take on the role of chair for UFV's Board of Governors. "There is a lot of strength around that table and the UFV management team is also strong. It is a good group. We all bring different talents and expertise, and will work together to provide guidance and leadership."
Delaney is SVP of business development at First West, which oversees Envision Financial in the Fraser Valley, Valley First in the Okanagan, Similkameen and Thompson valleys, and Enderby & District Financial. He joined Envision Financial at an executive level in 1997 after 10 years in senior leadership positions at CIBC and Household Financial Corporation. His accomplishments include leading the merger integration teams during Envision Financial's first merger in 2001, leading the development and launch of Envision Financial's successful Redfrog mortgage product, and creating Envision Financial's profitable leasing business.
Delaney holds an MBA from Queen's University in Kingston, Ontario, and a Bachelor of Commerce degree from the University of Calgary. He is a retired commissioned officer in the Canadian Forces Reserves. He serves on the board of the Canadian Cooperative Association, through which he provides guidance to credit unions in developing countries. He has also served on the Providence Health Care Board committee for St. Paul's Hospital and is the past chair for the Langley Homeless Shelter taskforce. An avid runner and reader, he is also a commercial pilot. He lives in Abbotsford with his wife Ramona and their seven children, and expects that a few of them will be UFV students once they reach university age.