Gregarious UFV employee Keith Newport passed away suddenly on June 30.
He was 55.
An active and enthusiastic volunteer, Keith joined UFV on Sept. 29, 2008 as a program technician for the transport trades at UFV's Trades & Technology Centre in Chilliwack.
He lived in Yarrow (or 'South Sardis' as he liked to say) and leaves behind Corry — his high school sweetheart and wife of 35 years — three children, Christopher (Kara), Kimberly (Sean), Brandon, and four grandchildren: Keaton, Kason, Cali, and Sean Keith. He's also survived by his father, Barney Newport, a large extended family, and countless friends.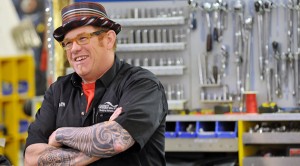 Trades and Technology Director Rolf Arnold remembers Keith as a dedicated employee with an unsurpassed commitment to his work, his colleagues, and the university.
"His love for his grandchildren, family, and friends was forefront at all times," Arnold said.
"His high level of integrity, sense of commitment, and his humour with infectious laughter will be truly missed."
Keith had a huge presence in the community — working with the Special Olympics, volunteering as a firefighter at halls in Greendale, Abbotsford and Sardis, serving on the executive of the Old-timers hockey association, and actively participating in the local drag racing scene.
As the much-loved driving force that brought coworkers together, Keith proved that without a doubt you can't judge a person by their appearance . . . because behind his tattooed and tough-looking exterior was a man with a warm smile and a huge heart who dropped anything to help a friend.
He was a model UFV employee: fiercely loyal, dedicated, proud, putting in countless hours of his own time to promote trades programming. Never content to just sit back, Keith worked hard to support students and faculty. Most recently, he encouraged children and adults alike to enjoy a drag racing simulator outside UFV's new campus at Chilliwack's Five Corners during a popular car show on June 23. He also volunteered at UFV's Convocation 2013, greeting graduates and their families as they entered the Abbotsford Entertainment and Sports Centre.
His keen attention to detail, trade expertise, and commitment to the programs he supported were second to none — and it showed in the tool room Keith oversaw, where tools were kept where they belonged, every sticker was stuck straight, and it seemed you could actually eat off the floor.
He was known to say "it's either perfect or it's wrong."
His loss will be felt at UFV and in the community in which he lived.
In lieu of flowers the family gratefully requests that donations be made in memory of Keith to the University of the Fraser Valley by visiting www.ufv.ca/keithnewport.
A celebration of Keith's life will take place in Chilliwack on July 20.