Two young women striving to make their communities better in very different ways are UFV's latest Betty Urquhart community service award recipients.
Among the first employees of Fraser Valley College (now UFV), Betty believed strongly in the values of volunteering and giving back to the community. While she passed away in 1995, UFV keeps her memory alive by honouring a person or group who exemplifies commitment to lifelong learning and community. Her passion and desire are reflected in the work of this year's recipients, Veronica Back and Brittany Clough.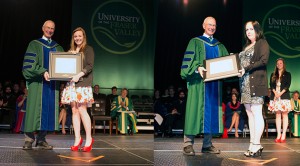 Back helps up to 60 people each Tuesday and Saturday at New Heights Church's Street Hope outreach lunch and dinner program in Mission, where she serves food, makes coffee, and cleans up afterwards in addition to distributing food hampers, lining up bus tickets and organizing potential rental opportunities.
But sometimes, her greatest gift is simply lending an ear.
"The greatest need is often having someone who will just listen to them and help them get food. That's what they really need," Back said.
Not personally affiliated with any church group, she began volunteering when a friend could no longer continue in the position and no one else was stepping up — a commitment to caring she learned while watching her mom volunteer for similar organizations.
"I grew up seeing how someone could really help make a difference," she said.
It's a lesson the single mom is passing on to her own children, aged nine and two. Her son, the oldest, sometimes helps out at Street Hope.
"Everybody needs compassion regardless of their situation."
The same positive attitude is reflected in the work of this year's co-recipient, Clough, who organized Dove's Beautiful, You — a fundraiser and challenge for self-esteem in girls at her Chilliwack school, G.W. Graham.
Open to Grades 7-12, the initiative challenged girls to remove their makeup and hair products for one week, in addition to daily self-esteem exercises. About 60 girls participated, wrapping up with a sleepover at G.W. Graham that followed a celebrity-packed speaker night that included Chilliwack Mayor Sharon Gaetz and Miss World Canada Tara Teng.
"I'm passionate about helping people improve their self-esteem," said Clough, who graduated from high school in June.
In addition to raising awareness and camaraderie, the event collected $1,300 to help educate young women on the dangers of eating disorders. Afterwards, Clough was encouraged by countless Facebook comments about Beautiful, You.
"All the girls were feeling better about themselves. It makes me really happy to be a part of that."
Clough recently learned she'll still help girls at G.W. Graham after heading to university next fall to become either a therapist or writer, thanks to a $1,000 scholarship split evenly between herself and the charity of her choice.
Her pick?
Beautiful, You.
Clough is wrapping up her latest campaign, in which she's trying to raise $10,000 for Free the Children, which offers long-term assistance for third-world children.
Both winners were presented with their Betty Urquhart award during UFV's convocation ceremonies on Thursday, June 13 at the Abbotsford Entertainment and Sports Centre.
Other past winners of the annual Betty Urquhart award include:
•    the Yarrow Volunteer Society in recognition of their ongoing commitment to run the Yarrow community hall
•    Abbotsford's Milt Walker for his volunteer work with the Reach Gallery Museum
•    Pat and Peggy Wiens of Hope for their Soup's On lunch program
•    Mission resident Tara Scheirer for her work organizing the Warm Zone, a temporary cold weather homeless shelter
•    Hope's Heather Stewin for starting a children's reading program
•    Chilliwack's Gwen Point for her role in launching the annual Chilliwack Powwow
•    Abbotsford's Ann Dyble for her contribution to the UCFV community women's centre
•    Elsie Goerzen for the Sardis Doorway program she founded as a drop-in for single mothers, and
•    Harrison's Ruth Altendorf  for her community work with a senior's hiking club and music group
•   Abbotsford's' Dr. Elizabeth Watt for her work with the Abbotsford Youth Health Centre
•   Patricia Murakami of Hope, who founded the Tillicum Centre