From seawater toxicity to music on The Simpsons, UFV's most impressive student research was recognized recently at Abbotsford's Ramada Plaza & Conference Centre.
Twenty-three UFV undergraduates were awarded more than $16,000 during the special dinner presentation at the university's Undergraduate Research Excellence Awards Presentation (full gallery here).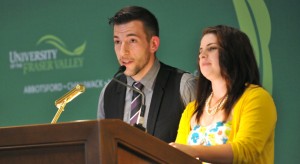 The invite-only affair brought high praise from UFV Chancellor Brian Minter, who referred to the research as "absolutely amazing excellence."
UFV Board of Governors vice chair Henry Jansen said the students' work is an impressive reflection of the type of research that goes on at UFV. He cited examples that explored everything from to solving bee shortages to monitoring decibel levels in plumbing.
And while successful, in-depth research achieves high marks from instructors, Provost and Vice-President, Academic Eric Davis said it also teaches students that they have employable skills, all while strengthening the backbone of the university.
"Student research is central to what UFV is and does," Davis said, pointing its high value being reflected in UFV's nine Institutional Learning Outcomes — a set of knowledge, skills, and abilities that the UFV community has collectively decided that every graduate should possess.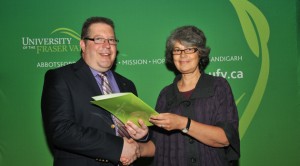 Of all the evening's speakers, two stood out — for standing together. The husband-and-wife pair of Shea and Jessica Wind were rewarded for their research in Indo-Canadian and Media studies, respectively.
UFV 2013 Undergraduate Research Excellence winners include:
Erin Hailstone (Communications): Positive Conflict? Promoting Appreciative Workplaces
Nikki Dionne (Criminology & Criminal Justice): Best Practices to Improve Canada's Assistance to Children with Incarcerated Parents
Paul Stephany (Geography): Representations of Indigenous Territory: Mapping Blackfoot Oral Tradition Using GIS
Sean Evans (History): A Southern Problem? Wartime Race Relations in Portland, Oregon
Shea Wind (Indo Canadian Studies): White-Canada Forever: A Look Through the Eyes of the Vancouver Daily Province Newspaper from 1906-1915
Jessica Wind (Media Studies): "I'm not a bloody Jukebox." Shary Bobbins — Musical Parody in The Simpsons
Curtis Robinson (Philosophy): Heidegger's Being and Time: Introducing the Project
Elizabeth Ashton (Political Science): Turned On and Tuning In or Dropping Out: An Investigation of Youth Political Engagement in the Fraser Valley
Sol Sun (Psychology): Own-Race Bias for Faces: Social and Perceptual Mechanisms
Angela Ostrikoff (Sociology): Look at Her! A Qualitative Study of Slut-Shaming and Gossip
Rebecca Hamilton, Christopher Hargreaves, Tran Le, Anubhav Kansra and Prabhjot Virk (Business Administration): Cross Border Shopping — Sevenoaks Shopping Centre
Klair Phillipoff (Biology): Investigating Howe Sound Water Quality Post-Industrial Activity Using a Giant Kelp (Macrocystis Pyrifera) Toxicity Assay
Brandon Wiebe and Brandon Yanciw (Chemistry): Parameterization of Classical Force Fields in the Context of High Pressure Calculations
Brendan Bulthuis, Jason Ho, and Timothy Richards (Physics): Using Laplace Sum-rules to Predict Ground State Masses of Hybrid Charmonium for a Variety of Quantum Numbers
Scott Bishop (Kinesiology & Physical Education): Heart Rate Variability & Cardiac Regulation: Indexing Recovery Following Concussion in Male Youth Athletes
The 2013 Industry Liaison Research Award went to Meagan Beatty, for her research into converting plastic waste products into fuel oil.
Each winner received $1,000, divided equally the case of group projects.
To be eligible, students must have completed a research project while a full-time UFV student (enrolled in at least 9 credits) during the Summer 2012, Fall 2012, or in the Winter 2013 semester.