UFV wins Fraser Valley Cultural Diversity Award for reflective workforce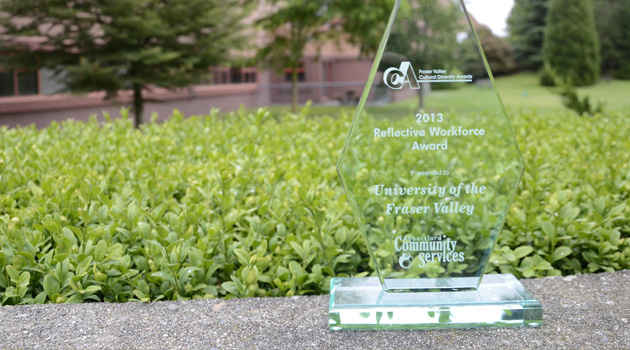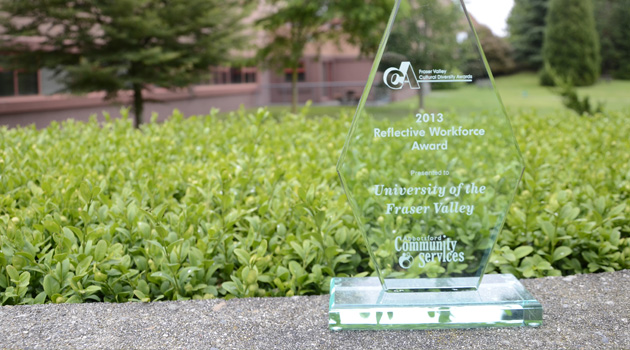 The University of the Fraser Valley was proud to receive the 2013 Reflective Workforce Award at Abbotsford Community Services' Fraser Valley Cultural Diversity Awards in March. The event featured guest speaker The Honourable Judith Guichon, Lieutenant Governor of British Columbia, and recognized five award-winners in different categories.
Diane Griffiths, associate vice-president of human resources, accepted the Reflective Workforce award on behalf of UFV. "We are very honoured and humbled to receive this award," said Griffiths. "We are proud of UFV's culturally diverse workforce, and the programs and services we have in place to make the university a welcoming environment for all. We have much more to learn, and look forward to continuing to build on our efforts in this area."
With 1,600 full-time and part-time employees, UFV's workforce is currently 63.2% women, 9.1% visible minorities, 2.6% Aboriginal, and 3.8% persons with disabilities.
UFV initiatives that attract and maintain a culturally diverse workforce include:
University policy (e.g. Fulfilling our Commitment to Aboriginal Peoples; Employment Equity)
Resources in place to support, foster and promote diversity including our Racism and Anti-Racist Network (RAN); PRIDE network; curricula that encourages and fosters respect for diversity in all faculties; Peace Studies initiative; Centre for Indo-Canadian Studies; South Asian diaspora studies
Equity statement in each job posting advertisement
Employment equity survey for new employees, and related reporting
Standardized recruitment process to promote selection based on merit
Family-friendly, comprehensive health and wellness benefits
Community-based partnerships (e.g., Indo-Canadian, Stó:lō, Mennonite)
Diverse student population: employee recruitment opportunities from student and family populations
Establishment of an office of Human Rights and Conflict Resolution
Employee return-to-work accommodations
UFV is located on traditional Stó:lō territory. We recognize and respect indigenous ways of knowing. A welcome or acknowledgement of this traditional territory begins each of our large events or gatherings

Appointment of full time Senior Advisor on Indigenous Affairs to promote indigenization of the university including recruitment and retention of Aboriginal staff, as well as strong links with Aboriginal communities
Aboriginal faculty numbers are increasing. UFV's commitment to indigenization is integral to UFV's orientation of new faculty and staff
Establishment of Aboriginal Access Office
Over 100 faculty, staff and administrators have participated in Stó:lō Place Name Tours
 Events (e.g., Pink Shirt Day, National Aboriginal Day, Indigenizing the Academy conference) aimed at increasing awareness/promotion of inclusion
Canada Education Park facilities include an Aboriginal Gathering Space based on a Stó:lō longhouse design

UFV International Office facilitating and enriching the internationalization experience for faculty and staff.
For more information about the Fraser Valley Cultural Diversity Awards, visit Abbotsford Community Services.