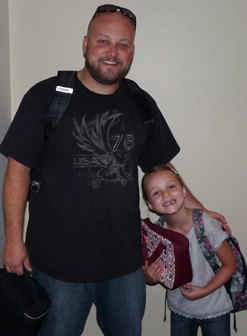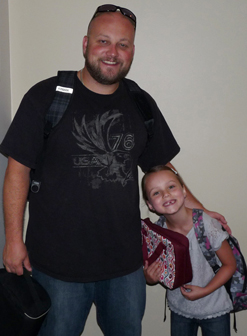 Lunch bags in hand, Scott Klassen and his daughter left for their first day of school — little Peyton heading to Grade 1, and dad off to the University of the Fraser Valley.
Less than a year later Peyton's nailed her ABCs, while Scott's working at his "dream job" after having recently  earned the Lieutenant Governor's medal for carrying the highest grade point average of any UFV student in a one-year program.
And all it took was plenty of support from his wife Krystina and a whole lot of hard work.
"Basically I was a father who had to do his homework every day and every night," Scott said.
"I knew I was near or at the top of my class, but this award's a complete surprise."
Klassen's journey began when his position as a produce inspector for a major grocery chain was being dissolved. Having found an area of interest, he dropped by UFV's booth at the education fair at Tradex, where he explained his career desires to Agriculture departmental assistant Shelley Hayes, asking if UFV could help him reach his goal of working for the Canadian Food Inspection Agency (CFIA).
Though given no promises, Klassen was steered towards the Horticulture Crop Production and Protection certificate, a one-year program based out of UFV's Chilliwack campus at Canada Education Park.
"I was 35 years old and hadn't been in school for 18 years," he said.
"But it doesn't matter how old you are, if you're dedicated you can do it."
With a focus on protecting vegetables, fruit, and plants, Klassen plowed through the course material, much of which was a surprise.
"I learned a lot more than I expected to."
When a CFIA job was posted last winter, Scott applied and now works full-time as a survey team inspector making sure B.C. doesn't become infested with the Asian Gypsy Moth — an insect that could potentially cripple the provincial economy.
"That was my goal and it came to fruition. Right now I have the best job in the world . . . it's really, really interesting," he said, suggesting he's a classic case of 'better late than never'.
"I wish I would've had this kind of dedication to school when I was younger, but you can't tell that kind of thing to a young person."
Maybe not, but showing instead of telling goes a long way.
With that in mind, keep an eye for the Klassen name when UFV's medal winners roll in around 2025 (when Peyton is old enough to attend university).
-30-