With the annual influx of family and friends coming to town for convocation ceremonies, there's no better time for the University of the Fraser Valley's Alumni Association to announce a partnership with one of Canada's premier hotel chains.
Beginning immediately, all staff, faculty, alumni, and special visitors to UFV receive preferred accommodation rates at Sandman hotels in Abbotsford and Langley.
In addition, 10 per cent the price paid for preferred UFV rates will be given to UFV's Alumni Association for bursaries and scholarships.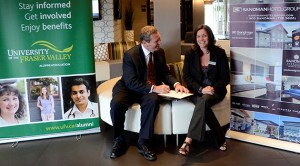 Essentially, just by mentioning they're involved with UFV, travellers save money while paving the way for future UFV graduates — all topped off by a great night's rest.
Before announcing the deal, Nancy Armitage, UFV's manager of alumni engagement, toured the Abbotsford Sandman — located a short drive from UFV.
"They really are catering to families and people coming to stay long-term. You won't be disappointed, it really is a nice place," she said, mentioning the modern décor, large rooms, kitchenettes, and even bunk beds.
"This special partnership means the Alumni Association can honour their mission of offering value-added benefits to our alumni, while also building on increasing student monetary awards. Partnerships like these provide the Alumni Association with an important connection to our community as well."
Salim Kassam, vice president of marketing for Sandman Hotel Group, agrees.
"Sandman Hotel Group is extremely excited about our new partnership with the University of the Fraser Valley," he said.
"This partnership allows us to continue to support education and help students and alumni reach their full social, professional, and networking potential."
The agreement with Sandman Hotels is just one of many great privileges available to UFV alumni. Check them all out at www.ufv.ca/alumnibenefits.
UFV's Convocation 2013 runs June 13-14. For more, see http://www.ufv.ca/ufv_convocation/.