As B.C.'s political gears ground towards May's provincial election, one man was as ubiquitous as Twitter's pervasive #bcpoli hashtag.
And no, we don't mean Adrian Dix.
UFV political science instructor Hamish Telford was seemingly everywhere leading up to this year's election, fielding nearly a dozen calls weekly from media looking for insight.
But as he sat at home May 14 watching results stream across his TV, phone and computer screen, even Telford was surprised as Christy Clark's Liberals retained their majority government despite lagging in the polls for months.
It was, in a word, "astonishing."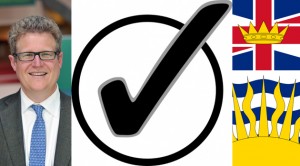 "I thought they'd come back as a solid opposition, but I didn't think they'd make another government," he admitted.
Telford said the Liberals putting the chill on their right-of-centre Conservative opponents was almost as impressive as their ability to ward off the NDP to retain a majority.
He credited the win to a "brilliant" Liberal campaign that focused on the economy, backed by a friendly, likeable Christy Clark. NDP leader Dix, meanwhile, didn't seem to inject the interest or energy his party needed while presenting himself as "rather somber."
As Liberal MLAs piled up throughout election night, Telford took to his computer to re-write a column he was scheduled to send a local newspaper the next morning, which is when the Globe and Mail came calling asking for an opinion piece to complement their online election coverage. All the while, Telford navigated a deluge of post-election media requests from radio, TV, and newspapers.
Hamish Telford's name was out there. And with it, came UFV's.
Though busy with his regular work, Telford takes a philosophical approach to the extra demands on his time.
"I view it as an extension of my teaching," he said.
"As a public employee I have an obligation to speak to the public when asked, and I enjoy being a part of the public discussion."
Telford's measured, educated commentary was something that could be understood and appreciated by political junkies and neophytes alike — spreading UFV's named to places it might not always reach.
"It draws attention to UFV and the work people are doing here, that's a benefit and a bonus; especially if we reach out beyond the Fraser Valley community," he said.
"This is a sneaky way to get exposure."
With criminology veterans Darryl Plecas and John Martin both being elected (as well as business instructor Simon Gibson), that exposure is sure to continue, though Telford expects the UFV connection to dissipate as MLAs stretch into their terms and become known in different capacities. Still, he sees their participation as an extension of UFV's engagement.
Unlike some Canadian universities, Telford says UFV maintains an excellent connection to the Fraser Valley's community fabric.
"The institution is well grounded in our community. People working here are well connected and entrenched in the community," explained Telford, whose education includes a BA from the University of Toronto, MA from McGill and PhD from UBC.
"UFV is part of the community; it's not separated."
Despite being a political junkie stretching back to his teenage years debating Trudeau policies in Toronto, Telford revealed there's little chance of him ever running for office, saying the longer he's an academic, the less interest he has in his own partisan views.
He once declined an offer to become a candidate's campaign manager, just as he turned down a job offer to work in government — instead accepting a position with UFV, following the path of his father, a scientist who taught at the University of Toronto.
Now, with another election behind him, Telford can catch his breath and look back — and like the candidates themselves, he admits to learning a few lessons.
"There have been times (media requests) have been too much," he said, admitting, "I've learned to say 'no' … but not often."