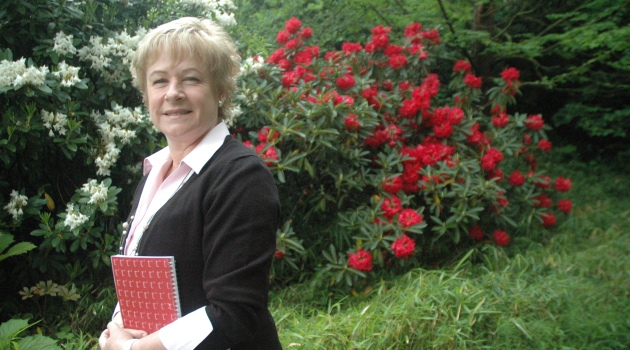 To do Dr. Linda Pardy's Teaching Excellence award justice, you need a rainy Saturday morning.
That's how long it takes to go through the binder of recommendation letters collected on behalf of the Abbotsford-based UFV communications instructor for the nomination process.
Pardy's nomination was supported by countless students from a range of disciplines who have taken one — or often several — of her communication courses at UFV.
There are too many to quote them all, but this statement from one of her Communications 345 students summarizes their collective feelings well:
"At the end of our course, Linda was thanking us for being such great students. This began a domino effect and several students spoke up thanking Linda and describing how much we appreciate teachers like her. In all my years of university I have never seen so many students genuinely thanking an instructor. We need more teachers like Linda. Her passion for teaching and her positive attitude are contagious, and create an encouraging learning atmosphere. I will never forget my learning experience with Linda, and I hope you can see how much she deserves this award."
Communication courses are often seen as a 'have to do' item by students — a hoop to jump through on their way to their discipline of choice. But Pardy makes them so informative, interesting, and relevant that students keep coming back for more, and attest to the value of them as they prepare for a workplace where almost every professional is expected to be able to write concise  reports, make compelling presentations, organize events, and summarize material. Some even choose to pursue a minor in Communication after learning with Pardy.
Many of the students who are Pardy's biggest fans are those who fall into the 'non-traditional' student category: older students, part-time learners, people juggling careers and families while pursuing courses. That should be no surprise: Pardy was a non-traditional student herself when she completed her Bachelor of Arts in Adult Education degree at UFV. She then went on to earn a master's degree and a doctorate in education, with a specialty in workplace learning at the University of Calgary while raising a family and launching her teaching career at UFV.
And before all that she'd already put in  over 20 years on the support and administrative side at Kwantlen University, moving up the ranks to director of student services through stints in cooperative education, financial aid, student services, and community and corporate education. So she came to teaching with a strong understanding of the challenges that students face outside of the classroom.
"Coming from a student services background, I have a somewhat unconventional way of teaching — with more of an emphasis on workshops and presentations than lectures," she notes.
She is always mindful that the students filing into her class the first day, or logging on to an online course for the first time, are diverse individuals with a variety of strengths and weaknesses, and all on their own unique journey.
"University students come to us with different backgrounds and abilities. I have no idea 'who' is in my class at first, what they are struggling with, or what they are good at. But it doesn't take long to start to discover their potential. My passion is to find the strength in each student."
Group-work is a part of most of her courses. Sometimes students groan when it is assigned, but they quickly learn that there is an advantage to working with others.
"I put them into specifically chosen teams, and since in Communication courses you get students from all sorts of disciplines, you find that they bring their strengths and their knowledge with them, so you get the benefit of working with others with a wide variety of expertise in computers, business, or arts, etc."
Many of her courses end with a project rather than a final exam, since she's trying to simulate the workplace for her students. In some of her upper-level classes, these can include real-life projects such as organizing trade expos or board meetings. She is also experimenting with "flipped" classes, in which all the lectures are posted online and classroom time is dedicated entirely to working directly with the students on their projects.
"The only way we are going to solve all the 'big world' issues facing humanity is for people and groups to work together, so students might as well get used to it while they are at university," she says.
She finds that this approach stimulates and engages her students.
"Students need this engagement both inside and outside the classroom in order to succeed at university," she says, adding that she brings her 'student services self' into the classroom as an instructor.
Her doctoral research, involved following four unconventional students who were 'at risk' of not completing university, also informs her teaching style.
"Some faculty members are averse to reaching out to students at risk. They just assume that they are not going to succeed. But I know that there are students with extreme barriers who do graduate. And the majority of our students are non-traditional in some form. At the very least many are the first ever in their families to attend university. People with a student services focus and background know that these non-traditional students can succeed. In order to do so, they need to feel ready, they need to feel welcome in the classroom, they need to have their prior knowledge respected, and they need a flexible, understanding university supporting them."
Pardy is a busy woman. In addition to teaching university classes, she participates on many UFV committees, is involved in designing new courses, teaches instructional skills workshops, facilitates retreats, and generally embraces being part of the UFV community.
Pardy maintains a blog focused on talking about student "stuff" at  http://practicalscholar.ca/ .  She has recently been part of a team that developed Canada's fully digital student service centre (It's a Juggle, named for all the things students today have to Juggle to get through post-secondary.  http://www.itsajuggle.ca/). And she has been involved in designing online student support tools for more than two decades.
As for receiving the award, she says it's both a humbling and an overwhelming experience.
"Just the nomination process itself is a gift, to see all the student letters written in support of me. You never know when you take a chance to do something innovative, if it will have the impact you hope it does, so to see what the students say in those letters is very affirming".
"The letters from the students use words such as 'kind' and 'caring'. People may wonder how kindness relates to academic rigor and integrity. But it does, because approaching your teaching with kindness and honesty, inspires students to work harder, so kindness creates the kind of rigor that students need to succeed."
And she gives credit to UFV for embracing her style of learning and teaching, first as a student and then as an instructor.
"I initially wanted to teach at UFV because I had heard many good things about the collaborative, friendly atmosphere, and how it was welcoming to all kinds of learners. I kept waiting for the honeymoon to be over, but it has never ended. There is a kind of UFV magic, and an ethic of care underlying how we do things, and it has allowed me to do my work in my own way. It's wonderful to see this work acknowledged as valuable through this award."