Three student speakers will shine at this year's convocation ceremonies.
Derek Froese is an involved Computer Information Systems (CIS) student, Sol Sun will be graduating from the psychology program with honours, and Laurie Schulz has completed her Master of Social Work.
All three have advice for students graduating this year, but also for students who are still studying at UFV in coming semesters.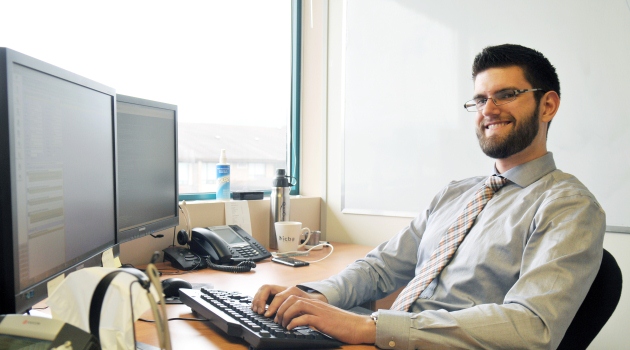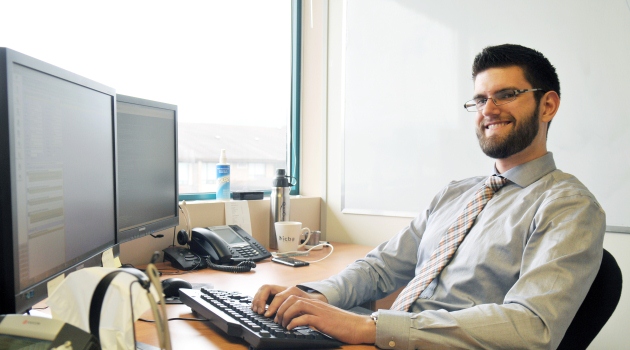 It's a lesson that Derek Froese took to heart in his time at UFV: if you want to make the most of your time at university, don't just go to class and then go home.
There's a whole other dimension to the UFV experience that can turbocharge your time here and send you on your way with leadership skills, lasting relationships, the satisfaction of having contributed while you were here, and an enhanced resume.
That's the advice in a nutshell from Abbotsford's Derek Froese, who is earning his Bachelor of Computer Information Systems and is the student speaker at the Friday, June 14 afternoon Convocation ceremony.
Yes, Derek is graduating with the skills and knowledge gleaned from five years of computing studies, but he's also taking with him experienced gained from being president of the Computer Information Systems Student Association (CISSA) and a general leader on campus.
Through CISSA, he and other students raised money for Child's Play, an organization that provides pediatric wards with video games to help young patients pass the long and tedious hours in hospital.
Working together with the leaders of the other science student associations, he helped launch the Big Bang, a semester-ending party that has morphed into the largest event on campus by its second year.
Along the way he also completed his degree, got to know his instructors and enjoyed the small-class atmosphere, and completed some co-op education work terms, including two within the prison system.
This summer he's working for Kerkhoff Technologies in Chilliwack, run by UFV alumnus Wim Kerkhoff, which just goes to show that those UFV connections come in handy.
Graduating psychology student Sol Sun will also be speaking at this year's convocation. Some of the lessons he hopes to impart include the value of research in a university setting.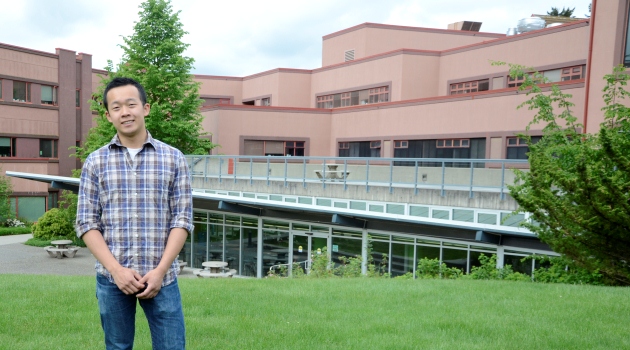 When Sol Sun used to tell his friends that he was studying psychology at university, they would immediately ask him to analyze their dreams.
But there's much more to psychology than that.
Sol's specialty is the study of memory, and he has been working for several years on projects in UFV's psychology lab.
"Studying memory has changed the way I look at life," he says. "Once you really get into studying it you begin to realize just how fallible your memory is and you don't trust it as much."
His particular area of focus was how people recognize faces and residual memory — how someone recognizes stimuli in an environment that they believe they have seen before.
Sol is graduating with an honours major in psychology, and he was president of the Psychology Student Association.
He is grateful for the hands-on research opportunities he got at UFV.
"I heard there were good opportunities for research here. My friends at the bigger schools say they don't get the same opportunities. There are bigger labs there, but much smaller roles for undergraduates. Here you can design a study and follow it through to the end."
Sol's goal is to attain a PhD and become a researcher in the field of cognitive psychology/ neuroscience. He will be attending graduate school at the University of Toronto in September. He says that conducting research in the UFV psychology lab under the supervision of Dr. Andrea Hughes was absolutely critical to both gaining acceptance into graduate school, and acquiring the necessary skills to be successful in the future.
As the only graduate student among the three student speakers, Laurie Schulz may be adding a third credential after her name, but that doesn't mean she's done learning.
Laurie is graduating on June 14 with the first cohort of graduates from the Master of Social Work program at UFV. She previously earned a Social Services diploma and Bachelor of Social Work degree at the university, first starting as a UFV student in 2002.
She juggled many responsibilities while pursuing her master's degree, including her job as a counsellor with Impact Youth Substance Use Services, her time with her six-year-old daughter, and commuting between her home in Chilliwack and her work and studies in Abbotsford.
It was worth it, she says.
"I was at a place where I wanted to infuse more meaning into my work and to engage on a higher level. It was quite a challenge personally and academically, but I gleaned a lot from it. I did a huge amount of learning on a personal level through this experience."
The fact that the MSW program was mostly online made it easier to juggle, but Laurie also appreciated the in-person group meetings several times a month.
"It was nice to come to campus for morale boosts and connection with the other students."
As a graduate student, she won a Writing Centre award for her major paper on student mental health and early intervention.  Her GPA in the MSW program is an almost perfect 4.22.
Laurie has said that she never imagined herself completing graduate work, and that she has surpassed her own expectations in doing so. She considers UFV her "home base", and credits the university for her professional and personal development.
"Laurie is a very skilled writer and speaker, and demonstrates integrity, wisdom, vulnerability, and well-developed humour in all her communication," said Leah Douglas, an instructor in the School of Social Work and Social Services.  "She is highly respected by her peers, the Social Work faculty at UFV, and in the Fraser Valley community. She would undoubtedly be a terrific student speaker."
In addition to her work with Impact Youth Substance Use Services, Laurie is also doing some private practice counseling with the Eterna Counselling Group,
Laurie says that on her educational journey she tried to be mindful of not getting overwhelmed by what she was "doing" but rather focused on who she was "being" and "becoming."
"We should all recognize that beyond what we do in our jobs, careers, and studies,  it is important to understand, appreciate,  and grow as people, as it's this that will determine how effective and successful we'll be.
"I'd like to challenge us to think beyond what we will now go 'do'…. And deeply consider who we will go 'be' as we travel the road ahead."