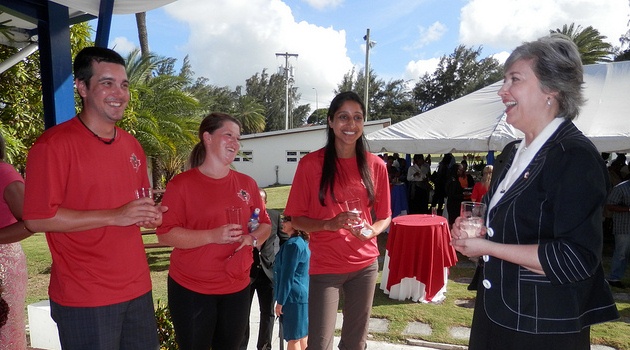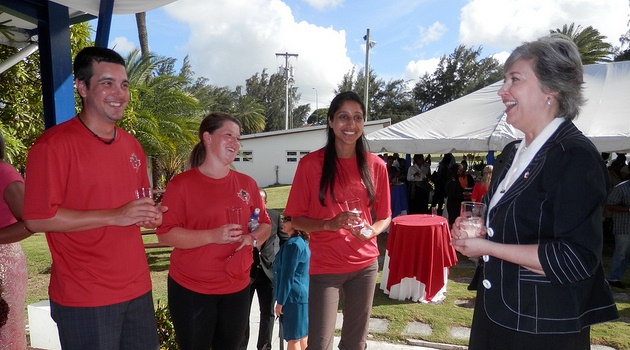 Once again a group of UFV students are having the experience of a lifetime by spending several weeks interacting with school children in Antigua through the Champions for Health Promoting Schools project.
Led by Dr. Joanna Sheppard of the Kinesiology and Physical Education department, the group is comprised mostly of KPE students, but this year they were joined for a shorter period by some students from the Teacher Education program.
The UFV Champions for Health Promoting Schools is a  program dedicated to improving the life chances of children and their families within Antigua/Barbuda, West Indies through health and physical education initiatives that:
expand opportunities for students to play leadership roles at school and in the community in which they live
relate academic learning to care for self, others, and environments that support growth
integrate health education within all aspects of the curriculum
build bridges between community health projects and school projects, eg. safe communities, environmental protection
provide support for the Antigua/Barbuda, West Indies Ministry of Education, Sports, Youth and Gender Affairs in the Implementation of the UNICEF Child Friendly Schools Initiative.
You can read all about the students' experience on their blog, which has been updated almost daily since their arrival in late April.
The Champions For Health students had some special visitors this week. They met with Canadian Minister of State and Foreign Affairs Diane Ablonscy; Prime Minister of Antigua Barbuda Baldwin Spencer; Dr. Nigel Harris, the Vice Chancellor of the University of the West Indies; Dr. Hazel Simmons-McDonald, the Head Principal of the University of the West Indies Open Campus on Antigua, and the High Commissioner for Canada to Antigua, Richard Hanley.
"The Minister Diane Abonscy was very supportive of our worked and thanked UFV for sending such great and enthusiastic students to work with school children in Antigua," says Sheppard. "Our students were just amazing and I know they represented our university with pride. The best part of the day was that we gave the Minister Ablonscy a Champions team shirt and also one for Prime Minister Harper, and she stated she would be sure to give it to him and will get a picture taken when it happens! And we were front-page news in Antigua the next day."