Dr. Adrienne Chan has been appointed as the Associate Vice President, Research, Engagement, and Graduate Studies at the University of the Fraser Valley.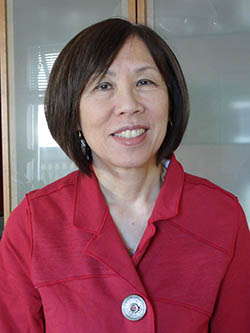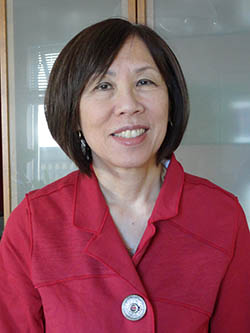 Chan has been a faculty member at UFV in the School of Social Work and Social Services since 2004, and has been acting in the AVP role since the fall of 2012.
"UFV is very fortunate to have such a dedicated and accomplished employee in this important position," said VP Academic and Provost Eric Davis.
The central tasks of this position include leading and supporting the development of research activities among faculty and students, leveraging research and scholarship to foster community engagement with the region, fostering the integration of teaching and research, increasing overall research funding from traditional and alternative sources, increasing awareness of available funding opportunities for faculty members and helping them to procure it, supporting and developing graduate programs, and promoting faculty and student research, scholarship, and graduate program accomplishments internally and externally.
Chan has an excellent research record and played a leading role in the development of UFV's Master of Social Work degree. She is also a UFV Teaching Excellence award winner.  She holds a PhD from the University of Kent at Canterbury, an MSW from UBC, and a BA from the University of Victoria.
Her primary research interests have focused on higher education, institutional change, institutional culture, academic culture, policy studies, and issues of diversity in educational institutions. In 2006, she was awarded a standard Social Sciences and Humanities Research Council (SSHRC) research grant, for work focused on social justice in universities.
In 2011, she was a successful co-applicant of a standard SSHRC grant that focused on the use of Punjabi interpreters in the child welfare system in Abbotsford.
"I am very excited about the opportunities on multiple levels that I will have to help increase and solidify UFV's research profile in this position," said Chan. "I want to support our faculty as they actively engage research and scholarship that is critical to our communities, both locally and internationally. Through my previous work as a researcher, I know the challenges they face, and I want to provide support to them."
Chan says that research activity at UFV supports the university's two goals of providing the best undergraduate education in Canada, and being a leader of the social, cultural, economic, and environmentally responsible development of the Fraser Valley and also supports UFV's objective of being innovative and entrepreneurial in pursuing these goals.
"I want to help to raise the profile of research and scholarship at UFV and provide a rationale of why it is relevant to everyone in our communities, and why it should be funded."
She notes that even at smaller teaching-intensive universities such as UFV, research is always occurring, and that it informs and supports the teaching that instructors do.
"Research projects undertaken by our faculty are a wonderful way of exposing our students to new knowledge and research opportunities, and the benefits also flow through to our communities. We're not as big as research-intensive universities like UBC and we never will be, but we have a role to play in incorporating and integrating research and teaching in a hands-on and applied way that works for our communities."
Chan cites a recent example where she worked with the City of Abbotsford to moderate forums on the harm reduction model of working with people with addictions.
"It's a contentious issue. Fraser Health and a number of agencies are committed to harm reduction while there are other sectors of the community are against it. Through the moderated forums we were able to facilitate respectful interaction and communication."
Chan will take up her role immediately.
-30-