Friends, fans and family gathered at Lynnwood Retirement Residence April 19, 2013, to celebrate Jean Scott's 101st birthday while fundraising for UFV's Dr. Jean Scott Endowment Scholarship.
Scott joyously met each of the 50+ guests with genuine appreciation, offering handshakes, hugs, and her famous kisses to all who filed into Lynnwood's banquet room (see the photo gallery here)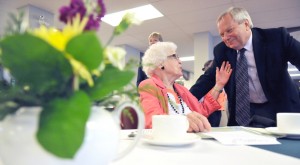 A leading advocate for education and a passionate learner, Scott (who has 14 years on fellow April 21 baby, Queen Elizabeth) was celebrated by MC and UFV theatre student Rebekah Brisco, the inspirational grandmother/granddaughter duo of Bobbi Spark and Nikki Dionne, and Amanda Preston, the 2012 recipient of the Dr. Jean Scott Endowment Scholarship.
Christopher Duffin, Advancement Officer, Community Initiatives and Awards for the University Advancement and Alumni Engagement Office, provided a humorous look at a fictitious course being considered for next semester entitled Jean 101 that outlined, among other things, Scott's lifetime of hard work and advocacy recognized with a person's medal from the federal government and an honorary doctorate from UFV, as well as the fact she's a hopeless romantic who was married three times, had numerous other loves and liaisons, and is still a flirt.
UFV President Mark Evered spoke to Scott's unwavering support of women's rights and her relentless passion for providing education for all, caller her "a true inspiration".
"She might not see as well as she once did," Evered said.
"But there's nothing fuzzy about Jean's vision."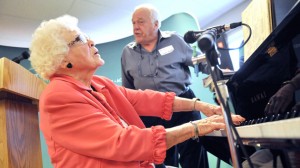 Scott then took the microphone, entertaining the crowd with an engaging speech intersecting her own tales with the biblical stories of David. The woman of the hour then played a lively set on the piano, singing along with her son, Spencer.