UFV President Mark Evered joined Board Chair Larry Stinson and Union President Virginia Cooke in congratulating UFV's 10- and 20-year employees at the CEP campus April 18.
Evered thanked the venerable employees for what they've done for thousands of students, in addition to countless coworkers.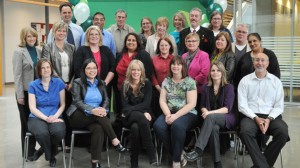 "Thank you on behalf of all those lives you've touched, enriched and improved," Evered said.
"We owe (UFV's success) to each other."
10-year employees include:
Ali Reza Fotouhi
Allan Arndt
Bobby Jaswal
Christina Neigel
Christine Jones
Cindy Devauld
Dan Vitaly
Derek Harnett
Emilio Landolfi
Erik Talvila
Hilary Turner
Irwin Cohen
Karen Massier
Loren Dirksen
Najmi Alibihai
Nancy Merritt
Pat Cruickshanks
Rowena Nichols
Shellie Steidle
Stephen Thomas
Sue Smith
Trevor Carolan
William Sabo.
20-year employees include:
Aileen Ablog
Debbie Horin
Elizabeth Dennis
Heidi Cain
Jill Harrison
Joanne Hutter
Joseph Yu
Karen Davies
Karen Giebelhaus
Zoe Dennison
Lou Schroeder
Martha Dow
Norman Taylor
Paul Gumprich
Raymond Welch
Regina Yorga
Julie Jabbal
Shawna Dyck
Wendy Stoltz.