By playing to strengths, UFV's FAST Club is helping elementary students with Fetal Alcohol Spectrum Disorder get the most of their school experience – locally for now, and potentially throughout the rest of British Columbia in the future.
FAST Club is part of an ongoing, multi-university strength-based interventions research project run out of UFV's department of Kinesiology and Physical Education (for a gallery of FAST Club in action, click here).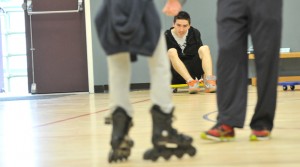 Earlier incarnations had FAST Club operating as a 12-week after-school program, but the latest club, which ran until April 17, is an abridged version created after the Ministry of Education asked if the initiative could be integrated into regular programming throughout the province.
"This is basically a pilot study to see if FAST Club can be implemented into the school system," says UFV kinesiology instructor Alison Pritchard Orr.
"We wanted to see what it looked like in a school environment within school hours."
Whereas deficit-based programs attempt to improve weaknesses, FAST Club builds on students' existing abilities, unlocking a domino effect of positive change in children's lives.
"Motor skills are the number one avenue of acceptance among their peers," explains Kristie Glasgow, director of occupational therapy with the Fraser Valley Child Development Centre, one of UFV's FAST Club partners.
Essentially, keeping up on the soccer pitch creates even playing fields in classrooms, hallways and beyond. For three weeks, students at Chilliwack's Central Elementary energetically participated in the program, with each using three of the possible six stations selected specifically for them based on their top strengths scores from pre-testing.
At this point, FAST Club operates without any external funding, so the program ran entirely with the enthusiastic support of 20 volunteer and research assistant students from UFV's KPE department.
Glasgow suggested the direct experience with UFV's students has a lasting impact on children with FASD.
"The more positive relationships they have in their life, the better the outcome in general," she says.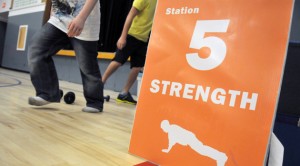 The next step is tracking changes in the classroom after FAST sessions, and hopefully securing funding for the program and its sister initiative, the BrainGamers Club, where children engage in a video game and neurofeedback (biofeedback) program under the supervision of UFV Kinesiology faculty.
In addition to practical experience and the satisfaction of improving children's lives, several UFV students have landed work within their field as a direct result of FAST Club. For more, visit ufv.ca/kpe/fastclub.