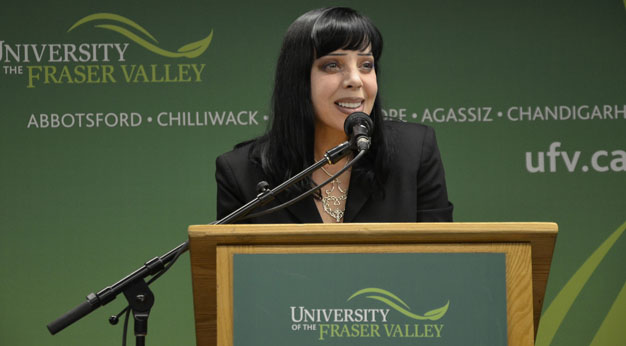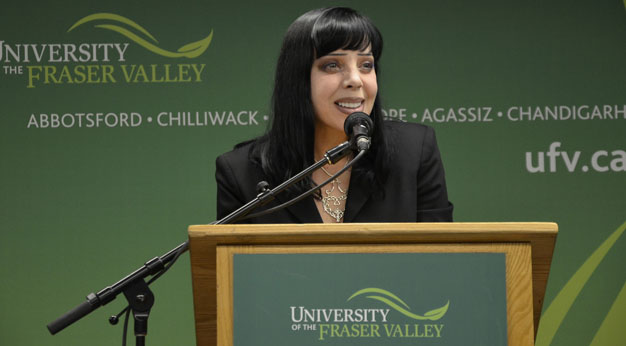 Canadian punk rocker and motivational speaker (no, that is not an oxymoron) Bif Naked spoke to an enthusiastic crowd on International Women's Day about the struggles women are faced with, and the power of friendships to help them through tough times. At the end of her presentation, UFV president Mark Evered announced that Naked will receive an honorary degree in June from UFV.
It was announced after her presentation on Friday that UFV will be bestowing an honorary degree on Bif Naked at its Convocation ceremonies June 13 and 14 (not sure which ceremony yet).
It will be in recognition of her outstanding contribution to the performing arts, her courage in dealing with a number of personal challenges (including breast cancer), and especially for her dedicated, inspirational, and life-changing work with young women.
Bif Naked is a Juno-nominated, multi-platinum-record selling Canadian singer-songwriter, actress, television host (ZeD on CBC) and motivational speaker. She has toured Canada, the United States, and Europe as a headlining act and speaker.
She was born in New Delhi and adopted by American missionaries. Her early years were spent in Kentucky, The Pas, and Dauphin, Manitoba. Her family then settled in Winnipeg, where she graduated from John Taylor Collegiate and studied theatre at the University of Winnipeg.
Her success in music has not been without significant personal challenges. She has confronted a long-standing eating disorder, a heart aneurism, two marriage breakups, and breast cancer. She draws on these challenges in her inspirational talks and her work with young women.
She has performed at UFV before as a featured performer at the Student Union  Society Disorientation event in 2003.
Friday's announcement means that Bif Naked will return for our convocation ceremonies and speak to the graduating students. The public will be welcome to attend the ceremony, which will be held at the Abbotsford Entertainment and Sports Centre.