This week, UFV st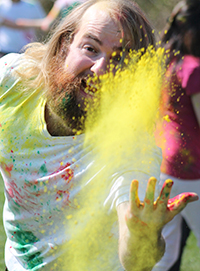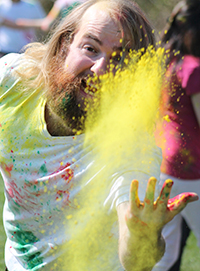 udents traded winter's dark hues for a fresh, lively new palette, as part of Holi, the Indian spring festival of colours.
The event, organized by Residence Student Services, took place on the green at the Abbotsford campus. In accordance with Holi protocol, participants threw coloured powder at each other.
"Holi was celebrated before at UFV, but this was a first time for us," says Tracey Mason-Innes, Manager of Housing and Residence Life. "Anish Bahri, one of our reception assistants, took the initiative to organize this activity."
After duly smearing each other in rainbows of colours, participants enjoyed free samosas.
Buckets of water were at the ready to allow people to wash off. This provided further opportunity for splashing and dousing in the warm spring sunshine.
I'm sending all my Indian friends and family very warm Holi wishes from my Canadian friends and myself at UFV,"says Bahri on Facebook. "We had great fun playing Holi today!"
View UFV Holi 2013 photos on Flickr