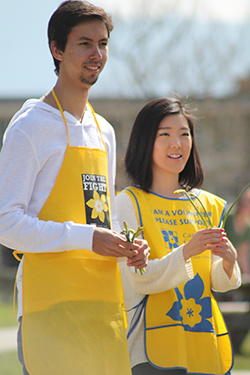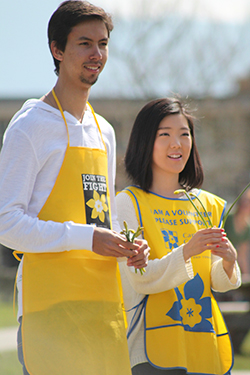 For the seventh year in a row, UFV students sold daffodils on the Abbotsford campus to support the Canadian Cancer Society's iconic April campaign.
From March 26 to 28, daffodil sales raised $1,700 to fund patient care, research, and prevention in British Columbia.
"We are thankful that the UFV community is so generous in support of this effort," says Michelle Rickaby, UFV's Volunteer to Work coordinator.
This year, UFV Volunteer to Work joined hands with the International Student Association to coordinate the campaign. One hundred and ten students volunteered to help. "This is the largest group of volunteers we have had since we started in 2006," says Rickaby.
Prashant Wadhwani, the student leader who organized the volunteer teams, thanked all the participants. "We ourselves may feel that what we are doing is just a drop in the ocean," says Wadhwani, in his thank-you message. "But the ocean would be less because of that missing drop."
To conclude their fundraising efforts, student volunteers stood in a newly planted daffodil bed near the library holding a thank you message for Dr. Brian Minter, who donated 1,000 daffodil bulbs to UFV in support of the campaign.
"The bulbs near the library sprouted first," says Rickaby. "More will come up as the weather warms up and act as a reminder for all cancer patients, caregivers and survivors that there is hope."
Today, over 60% of Canadians diagnosed with cancer will survive compared to about 25% in the early 1940s when the Canadian Cancer Society started funding research.
View UFV Daffodil Days photos on Flickr