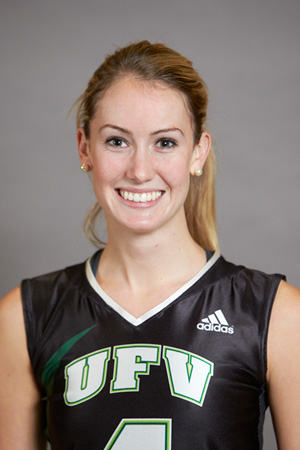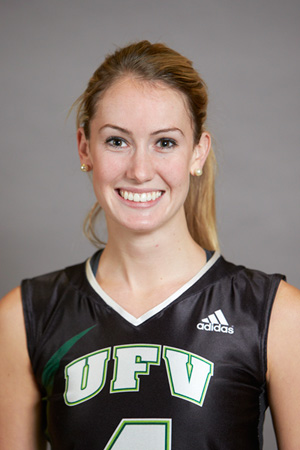 The University of the Fraser Valley Cascades Kayla Bruce has been named the CCAA Female Volleyball Athlete of the Year.
The veteran led UFV and the conference in total offence with 393 points for a 4.57 average. Bruce was also first in blocks with 88 (1.02 average) and third in kills with 280 (a 3.26 average).
"What an honor for Kayla to be named the player of the year in the CCAA. I could not be happier for her. In a year where there were a lot of deserving athletes it is very flattering for the CCAA committee to vote her as the recipient. This is everything to do with her compete level. Many athletes have moments of greatness. It is Kayla's consistency that separates her from the rest. Well done!" said UFV head coach Dennis Bokenfohr. Bruce was also named a CCAA First Team All-Canadian for a second straight year.
The 2012-13 Cascades women's volleyball team finished the PACWEST regular and post season an amazing 24-2 (22-2 regular season, 2-0 playoffs) and earned the school's first regular and post season PACWEST Championship.  UFV is ranked number one in the current CCAA top ten poll, a position they have held for 16 of the 20 weeks the poll has been published this season. Bruce was named the PACWEST championship tournament "Most Valuable Player" and tournament all-star.
"Coming into the 2012-13 year Kayla had set high expectations for herself. Every player hopes to have as productive season as one like Kayla's and it came from a lot of hard work. Kayla has bought into our system fully and has evolved into one of our leaders. She carries a lot of pride on our team's success and embraces the moment each time we go out to perform," said Bokenfohr.
Other candidates for 2013 CCAA Women's Volleyball Player of the Year were Alyssa Fields-Bouchard of the Élans de Garneau, Ashley Jordan of the St Thomas Tommies, Ashley Lange of the Lakeland Rustlers and Kelly Nyhof of the Humber Hawks.
Kayla Bruce's 2012-13 PACWEST regular season statistics and accomplishments:
Position:  Middle
Hometown:  Surrey, BC
Year @ UFV:  5
#1 in the PACWEST and CCAA in blocks 88 (1.02 average)
#3 in the PACWEST in kills with 280 (3.26 average)
#1 in the PACWEST for total offense 4.57
-PACWEST First team All-Star
-PACWEST Female Volleyball Player of the Week (twice)
-PACWEST Female Volleyball Player of the Year
-PACWEST Championship Tournament "Player of the Year"
-CCAA First Team All-Canadian
-Finalist for BC Sport Female Volleyball Player of the Year (College Division)
-CCAA Female Volleyball Player of the Year
2013 CCAA Women's Volleyball National Championship
Online Webcasting:   www.sportscanada.tv
Schedule & Scores:   http://ccaa.ca/womensvolleyball2013/