UFV Cascades women's basketball team faces Saint Mary's University Huskies in CIS Final 8 quarterfinals in Regina, Saskatchewan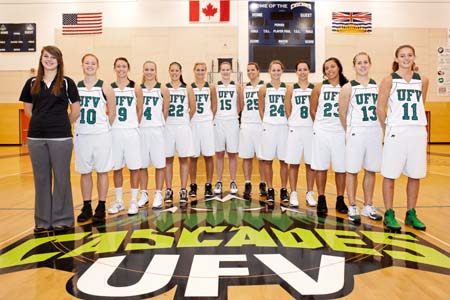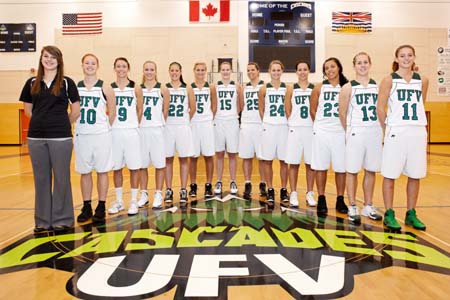 The UFV Cascades are participating in their first Canada Interuniversity Sport women's basketball Final 8 national championship tournament and will face the AUS champions Saint Mary's University Huskies in the first round on Friday at 8:30pm MST (7:30 PST). The CIS is the elite university athletic association in Canada.
Founded in 1983, the Cascades entered Canada West (and the CIS) seven years ago in 2006 and have steadily improved each season. This past Canada West regular season, UFV broke several "key" school marks. The Cascades finished the regular season with a sparkling 18-4 record, breaking the school's mark for wins in a regular season, previously 12 (accomplished twice). The Cascades won their first Canada West regular season (Pacific) division title and on January 3 hit the pinnacle as they were ranked number one in Canada for two straight weeks in the CIS top ten poll. UFV never dropped below fourth all year, a great accomplishment for a school playing in only its seventh year in the CIS.
"Making our first appearance at the "Final 8" is another accomplishment and another first for this team," commented head coach Al Tuchscherer.
Led by Tuchscherer, who is in his 11th year at the helm of UFV, the team has been able to make the transition from CCAA college level ball to the CIS an easy one. Tuchscherer, like most very active coaches in the community, is one of the founders of the Junior Cascade program, where junior and high school level student-athletes can hone their skills in preparation for participating in CIS women's varsity basketball, the highest level of amateur basketball in Canada. The present UFV Cascades lin up are no strangers to Coach Tuchscherer as seven of the 12 on the roster have gone through the program. While the Cascades will be the "rookies" at the CIS Final 8 tournament (their first appearance) the key to the team's success is that the nucleus has been together since high school playing various levels of ball as a unit.
Led by second team Canada West all-star Aieisha Luyken of Mission, who was top scorer with 356 points for a 13.2 points per game average and Sarah Wierks, Chilliwack, with 340 points (12.6 ppg) and 260 total boards (9.6 rpg), Coach Tuchscherer has many weapons and very deep bench to go to in a short tournament, like the three-day CIS Final 8 event. Seven different players averaged four or more points per game, six different Cascades led UFV in scoring during the regular and post season, seven different Cascades led in rebounding, and in 12 regular season games every Cascade scored two or more points. The Cascades "trademark" is defense.2 times this season they held their opponents to under 10 points in a quarter, twice holding their opponent to under 20 points at the intermission. UFV's tenacious defence forced their opponents to commit 580 turnovers in 22 regular season games.
The Cascades are no stranger to the University of Regina Cougars' home gym, as they have played at U of R three times this 2012/13 school year. The Cougars hosted two different preseason events this year. UFV participated in both coming away with a 4-2 record including victories over Carleton University (OUA East champions) 59-58 and the host Cougars (Canada West Champions) 77-72. In the regular season UFV lost a "nail biter" to the Cougars 59-55 on December 1. The Cascades are ready for the challenge of their first visit to the CIS elite women's basketball tournament with 10 veterans and two rookies and great chemistry the program's future is bright and this weekend is just another positive step in this growing program's history.
Championship website: http://english.cis-sic.ca/championships/wbkb/index
Online Webcasting: www.CIS-SIC.tv
TEAM PROFILE
UFV Cascades
Head Coach: Al Tuchscherer (11th season overall-7th in CIS)
Regular season record: 18-4
Regular season standing: 1st Pacific Division (Canada West)
Playoff record: 3-2
Playoff finish: Canada West bronze medalists
Overall record vs. CIS teams: 21-6
Overall record vs. Final 8 teams: 0-3-0 (0-2 vs. Regina, 0-1 Calgary)
Top 10 final ranking (Feb. 26): No. 3
Top 10 best ranking: No. 1 (2 polls)
Top 10 number of weeks ranked (14 polls): 14
Conference award winners: Sylvia Sweeney Community Award nominee: Alexa McCarthy
Conference 2nd team all-stars (Canada West): Aieisha Luyken (G)
Season leader (points per game): Aieisha Luyken (13.2)
Season leader (rebounds per game): Sarah Wierks (9.6)
Season leader (assists per game): Aieisha Luyken (4.6)
Team national ranking (offence): 9th (71.3 ppg)
Team national ranking (defence):7th (57.3 ppg)
CIS championship appearances (not including Regionals): 1st
CIS championship all-time record: 0-0
CIS championship best result: N/A
CIS championship last appearance: N/A
CIS championship sequence: 1st Appearance
CIS Regionals record (2011 & 2012): 0-2
For further information on UFV Cascades athletics contact David Kent, sports information, 604-309-7658 – email: david.kent@ufv.ca
The UFV Cascades are members of Canada West (CIS) and PACWEST (CCAA) with 140 student-athletes participating on nine varsity teams in men's and women's basketball, rowing, soccer, volleyball and men's golf. UFV athletics plays its home games in the Envision Athletic Centre (Abbotsford, BC), Exhibition Field and Chilliwack Golf & Country Club (Chilliwack, BC) and rows at the Fort Langley Rowing Club (Fort Langley, BC). Follow the Cascades on Twitter @UFVCascades and Facebook (UFV Cascades Athletics) or visit the department's web site at www.ufvcascades.ca
@ufvcascades
#thinkgreen