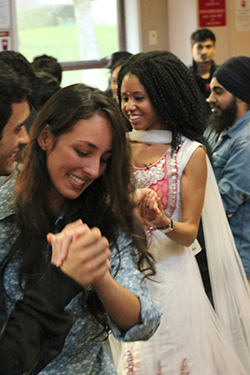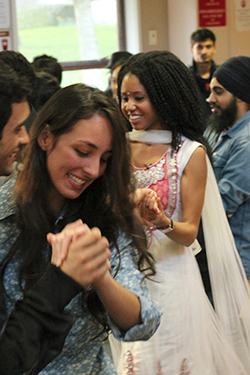 Every Friday at U House, UFV students gather to relax, socialize and kick off the weekend with tea, cookies, games, and dancing.  And on occasion, guests are treated to a special celebration or activity.
"Last Friday, Indian students banded together to showcase their culture at Weekend Kickoff," says Adaly Molina, Student Support Coordinator at UFV International. "They decorated U House, provided food and chai tea, broadcast Indian music, created information booths, and ran a Bollywood movie for their guests. We had a full house. It was a very colorful and lively Weekend Kickoff."
Several students dressed up in vibrant Indian clothing for the event. Student Life staff took the opportunity to film some footage for a series of new orientation videos. "In the video, Nicole, one of our students, takes the viewers through U House," says Kate Nickelchok, who coordinated the filming. "At the end, she arrives at Weekend Kickoff and joins the dancing."
Indeed, sharing dances from all around the world is at the heart of Weekend Kickoff.
"It started in Fall 2012, when a group of Brazilian students arrived to study at UFV," recalls Molina. "At the time, we held Tea Time, an informal drop-in at Baker House on Friday afternoons.
"Our Brazilian friends started teaching Forro," Molina continues. "Things got a little crowded, so we decided to move the event to U House. With the extra space, we're now able to run more activities and host more guests. We have games, foosball, Ping-Pong, and Wii dancing. And students now also have a larger dance floor."
Canadian and international students alike enjoy the opportunity to meet and socialize with their peers.
"Weekend Kickoff is the highlight of my week," writes UFV student Renée Hartwig on the Study Abroad blog. "I get to dance Forro with the very talented Brazilian students, and rock and roll with Roger, the exchange student from France.  I also enjoy the mellow moments of sitting, talking, and munching on freshly baked cookies just as much.  Every week, I meet someone new and catch up with friends, despite our busy schedules.  I love Weekend Kickoff!"
Brazilian students will showcase their culture at next Weekend Kickoff on April 5, 2013. "Please drop in to kick off your weekend with us," says Molina. "And brace yourself for some great dancing."
Weekend Kickoff will run on Friday until the end of the winter semester. "We have not set the summer schedule yet," says Molina.
Students who would like to run a special event, dance or cultural celebration as part of Weekend Kickoff can email Campus Buzz at campus.buzz@ufv.ca
Friend Campus Buzz on Facebook to stay tuned.
55 reasons to attend Weekend Kickoff (and bring a friend) − Flickr photo set