The Chinese Students and Scholars Association (CSSA) at UFV celebrated the New Year in style with a series of events to usher in the Year of the Snake.
Festivities started with a Lunar New Year dinner held at Floata Seafood Restaurant in the heart of Chinatown on February 7, 2013. Christy Clark, the Premier of British Columbia was in attendance, as well as several ministers, including John Yap, BC's Minister of Advanced Education, Innovation, and Technology and Minister Responsible for Multiculturalism, Ida Chong, Minister of Aboriginal Relations and Reconciliation, Moira Stilwell, Minister of Social Development, Naomi Yamamoto, Minister of State for Small Business, and Ralph Sultan, Minister of State for Seniors.
UFV CSSA executives joined more than 1,000 Asian representatives invited to the reception.
"As we focus on building relationships with our Asian partners abroad," Premier Clark stated in her New Year address, "we also recognize Asian-Canadian neighbours at home for the contributions they continue to make to our communities, our economy, and our province. They have made British Columbia a more diverse, vibrant place."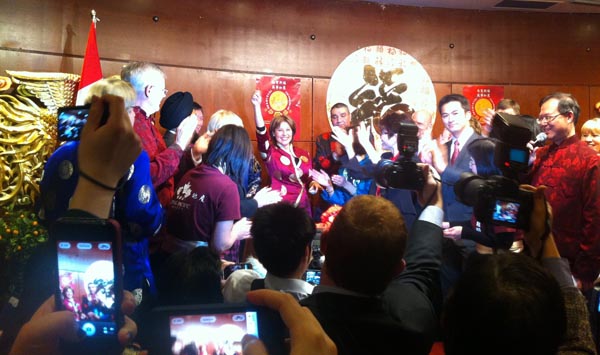 On February 8, 2013, UFV CSSA took the celebration to U House on the Abbotsford campus. In collaboration with UFV International and Campus Buzz, they hosted a spring festival evening with performances, prizes, games and a delicious dinner that included traditional New Year dumplings. View photos on Facebook.
The festivities culminated with a spring festival gala on Sunday, February 10, 2013, at the Centre for Performing Arts in Vancouver. The evening included performances by Chinese musicians and artists, including Jason Chen, Dance 4 Life, Yang Xiao Hua, and UBC humorist Fang Zhou Liu. Eric Davis, UFV's Provost and Vice President, Academic, and his wife were in attendance on behalf of UFV.
"CSSA members from nine Lower Mainland schools collaborated to organize this event" says Helen Zhai, UFV CSSA's President. "UBC CSSA's President, Yang Wu, who is a UFV transfer student, was instrumental in bringing everyone together."
UFV CSSA joined CSSA members from Douglas College, Capilano University, Emily Carr University, Kwantlen Polytechnic University, Langara College, UVic, UBC and SFU to put on the gala.
"This was the first time we pooled our resources and the outcome was good," Zhai notes. "I hope we can work together again next year to celebrate the largest Chinese holiday of the year."