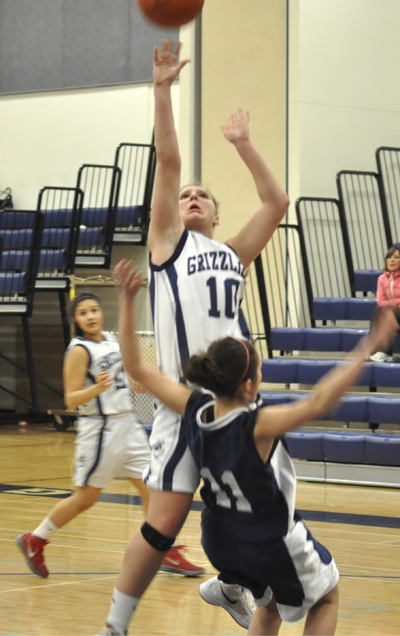 The University of the Fraser Valley Cascades women's basketball program has signed Kaitlyn McDonald of  G.W. Graham Secondary School, Chilliwack, BC, to the women's basketball program.  McDonald will join one of the Canadian Interuniversity Sport (CIS) top women's basketball programs. The Cascades are currently ranked third in the CIS top ten poll, they have not dropped under 5th in Canada all season and for two weeks earlier this year were the country's number one program, in the rankings. UFV is in first place in the Pacific Division of Canada West.
McDonald comes to the Cascades as a decorated BC high school basketball player, a four-year letter winner, Kaitlyn excelled in academics as well as basketball at GW Graham, she was been recognized as a top academic student at GW Graham the past five years. She will be the sixth GW Graham student-athlete to commit to a post-secondary school in either the CIS or CCAA and the first female to be recruited by a top ten CIS school.
"We are very excited for Kaitlyn and the opportunity Coach Al Tuchscherer (UFV's head coach) is giving her at UFV," said Jake Mouritzen, Athletic Director, GW Graham.
The point guard is very excited to join UFV in September, 2013, "I chose UFV because it's the perfect balance for me with academics and athletics.  I grew up playing in their Junior Cascades program and really fell in love with their program. What the women's basketball team has accomplished is amazing and I can't wait to be a part of that next year. I plan to achieve my Kinesiology degree and aim towards a teaching career," said the five-time honor student.
"We are thrilled to bring a player and person of this calibre into our program. Kaitlyn is arguably the best shooter in the province and one of the best to come out of BC in the past several years.  She has multiple tools in her game and we are excited to have Kaitlyn get into our program, work with our coaches and current players and maximizing her vast potential", commented Tuchscherer.  "The thing that stands out with Kaitlyn more than anything is her work ethic and love of the game.  I have known her since she was in grade 8 and it was evident early that she loved the game, loved to get better, and has always been eager to new things to her game.  These characteristics are exciting from any coaches perspective and will fit in perfectly with the current group we have which will be key as we move forward as a program."
GW Graham secondary is a AA-size British Columbia high school. The Grizzles basketball program has quickly risen the ranks in the Fraser Valley. "We are thrilled that Kaitlyn is playing for UFV next year.  It is a great accomplishment for her and one that she has earned through her own hard work and dedication to the game and her academics", said Sarah Mouritzen, head coach girls basketball at GW Graham Secondary.
Coach Tuchscherer agrees with Sarah Mouritzen assessment of her soon to graduate Grizzlie, "We think that Kaitlyn is a player who can contribute immediately in our program but we are also keeping an eye on the future as we graduate five seniors in 2014.  We think Kaitlyn will have a big role, along with current younger kids, to really take our program to great places", said Tuchscherer.
For further information on Kaitlyn McDonald contact Al Tuchscherer, head coach UFV Cascades women's basketball, 604-557-6626  – email:  al_tuchscherer@ufv.ca
For further information on UFV Cascades athletics contact David Kent, sports information, 604-309-7658 – email:  david.kent@ufv.ca