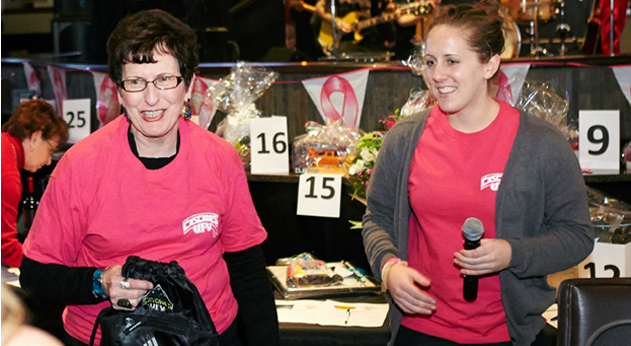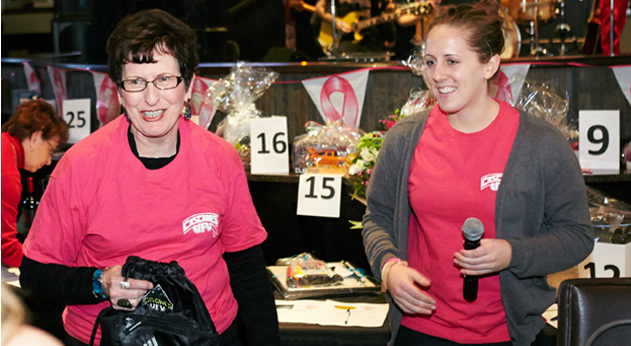 The generosity of the fans, parents and patrons of Finnegan's Pub last night was amazing as the University of the Fraser Valley Cascades women's basketball team raised close to $4,200 at their inaugural Shoot for the Cure breast cancer awareness fund raiser and silent auction.  The event saw 30 different auction items ranging from beauty products to a get-away at a Harrison  bungalow go for $15 to $250. Each guest also paid a $15 entry fee.  The proceeds of the silent auction, 50/50 draw and various other games go to the Canadian Breast Cancer Foundation (CBCF) Yukon/BC chapter.
"It was a special evening at Finnegan's to kick off the Cascades contribution to the 'Shoot for the Cure' fundraising drive. Alexa McCarthy and the team really stepped up their efforts and created a fantastic evening of food, fun and raising money for this outstanding cause. The team is proud to be part of such an important event that stretches right across the country and has been able to raise hundreds of thousands of dollars over the years.  It turned into a great event for our university and community and we look forward to building on the success of this event in the future," said UFV head coach Al Tuchscherer.
The Cascades will host their annual "Shoot for the Cure" CIS women's basketball game Sat, Jan 26, at the Envision Athletic Centre, against the UNBC Timberwolves. Proceeds from the sale of UFV Cascades pink Shoot for the Cure t-shirts and CBCF merchandise go directly to the CBCF Yukon/BC chapter.   Tickets for tomorrow's basketball doubleheader are $5, for adults, and $2 for non-UFV student. UFV students receive free admission.
Weekend Basketball Schedule
Fri, January 25
UNBC Timberwolves @ UFV Cascades Women 6 pm/ Men 8 pm
Sat, January 26
Shoot for the Cure Night
UNBC Timberwolves @ UFV Cascades Women 5 pm/ Men 7 pm
Special Guest Speaker:  CBCF's Dale Larsen (halftime both basketball games)