UFV's Visual Arts gallery has several shows scheduled from January through April and several of them have a connection to UFV Visual Arts alumni.
VISUAL ARTS GALLERY | January – April 2013
University of the Fraser Valley, Abbotsford campus, B 136
Listen as the Whispers Look Around
Scott Schell (Alumni)
Jan 7 – 25
Listens as the Whispers Look Around is a collection of works that have been developed over the last two years by alum, Scott Schell. Some of the pieces are from an ongoing project composed of concrete rocks of casted body parts. These sculptures are left outdoors in public locations to offer a moment of accidental surprise; they provide an opportunity to reflect on the human interaction with the physical and emotional space and to consider what is left behind as a result.
Migration, 2010 (two-channel video installation) Laura Dutton (Alumni) Jan 28 – Feb 7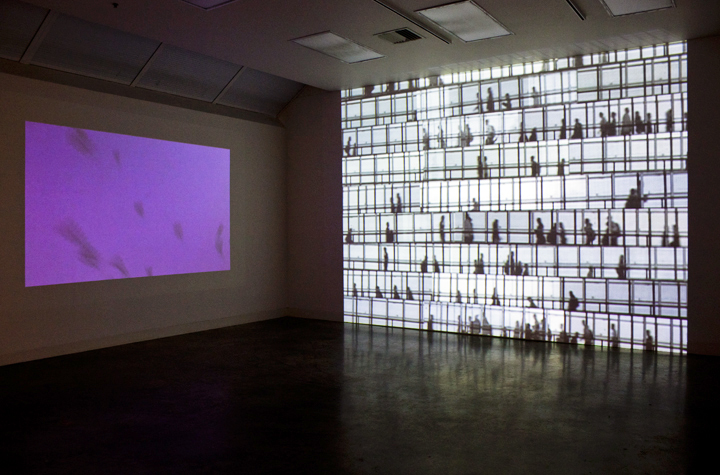 Laura Dutton
Migration is a video installation consisting of two looping projections that form a visual dialogue. In one, Vancouver commuters walk across a glass-enclosed overpass between two skytrain stations. Momentarily trapped in a kind of urban ant farm, the travelers pass through a space that is neither quite here nor there. They are ultimately going to and coming from another place; this is no one's destination.  The other projection is also a recording of a daily commute.  Here, a murder of crows flies overhead on the way to its evening roost. These transient spaces are passed through but seldom pondered, spaces in-between filled with movement, haste and repetition.  Yet in them, a particular expression of our shared daily migration emerges.
Feb 11 – 15: Reading Week – Gallery closed
Silent Auction
Feb 18 – 22
The Silent Auction is an event dedicated to the development and support of the Visual Arts at UFV. Proceeds go to the production of the BFA grad show and for VA scholarships. The event is open to the public for five days and provides a rare opportunity to acquire artworks that are affordable. The process is fun and sometimes competitive, so please visit the space and support the artists who have donated their time and inspiring artworks. Winners will be contacted on Feb 22. Please note that the gallery will close on Feb 22 at 5 PM. Everyone is welcome!
Hours: 10 am–6 pm.  Mon–Thurs. Friday 10 am–5 pm.
Feb 25–27: Gallery closed: Installation of Faculty Show (take down is Mar 14)
Faculty Show: Work in Progress
Feb 28 – Mar 13
Opening Reception: February 28, 4–6 pm
Panel Discussion: TBA
The 2013 UFV Visual Arts Faculty Exhibition, Work in Progress, will highlight the development of artists over time.  Each participating faculty member will exhibit an artwork from their undergraduate school days, as well as a more recent work.  Life-long preoccupations may be revealed, progressions in form or content, or perhaps we may see drastic divergences in the artists' oeuvres.  With its installation within an art school, this exhibition proposes that artists, whether students or instructors, are always 'works in progress.'
Please join us for the opening reception on Thurs, Feb 28, from 4-6pm.  Look for forthcoming information about an accompanying faculty panel discussion about the exhibition and artists.
Respect the Process: Celebrate the Journey for the Love of Art
Hope Secondary School, Senior Art Students (Selected Works)
Instructor, Chris Janzen (Alumni)
Mar 18– 29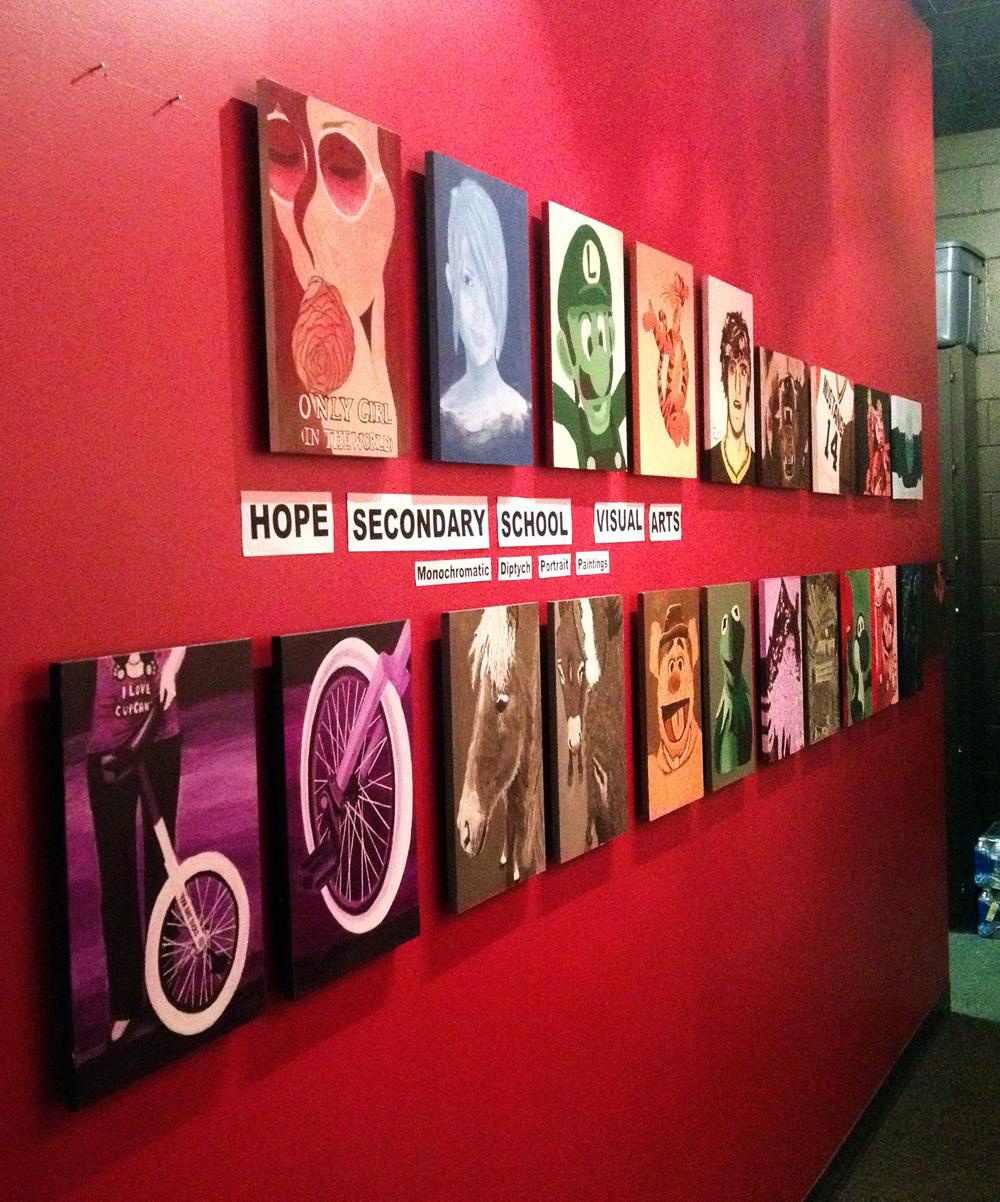 The works in this exhibition represent the first year of a new program at HSS, designed especially for students interested in the arts: Senior Studio Art. The participants were selected through an application process where they were asked to explain why they thought they could benefit from being challenged this year in art class. These students, who added their own slant to course assignments, experimented with materials, and consulted with peers have been challenged from start to finish to exceed requirements whenever possible. Some work stems from class projects, while others were created outside of class time. Our hope is that this work not only displays the talents of each student but also provides a small glimpse into the mind of young artists living in Hope, BC.
Mar 15 Gallery closed due to installation of HSS show.
Through Misery and Fantasy
Jen Pride and Tara-Lynn Kozma-Perrin (Alumni)
April 1–12
Within the contemporary urban landscape and because of its unpredictability and disruption to our patterns of living, nature is often valued in terms of loss: of time and money. Through Misery and Fantasy questions the idolization of these values in consideration of the once highly regarded appreciation of beauty, and value of the beauty of nature in art. This urban tableau provides viewers a space for contemplation of what is synthetic and natural in consideration of our environment, our landscape and our selves.
April 15 – 23: Gallery closed: Installation of Grad Show
The BFA Grad Show 2013
April 26 – May 17:
Every year members of the University of the Fraser Valley, and its surrounding community, come together to support a culturally enriching experience in the Visual Arts department: the BFA Grad Show. This year's exhibition will feature works by Lindsay Craig, Jenessa Galmut, Chalie Howes, Jessica Laibahas, Lauralee Lamarche, Majd Mansour, Jenaya McChesney, Charissa Smith, and Jeff Stackhouse. You are all invited to the opening reception on April 26 (Fri) at 6:30 pm in the VA Gallery, Abby B136.