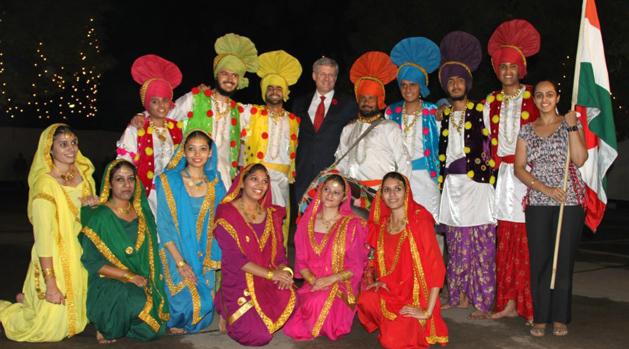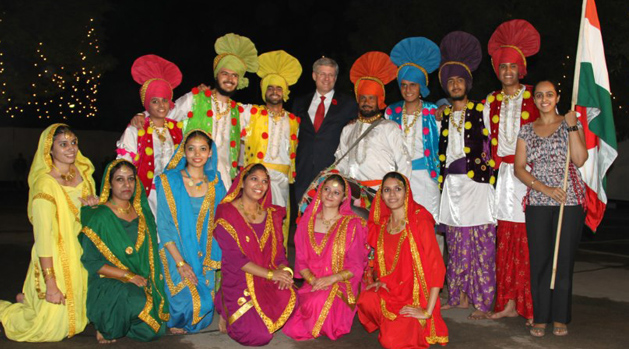 The University of the Fraser Valley strengthened its ties to India recently through an 11-day visit by UFV president Mark Evered and colleagues. And a visit by Prime Minister Stephen Harper and his trade mission to Chandigarh gave students from UFV's business administration program there the chance to make a good first impression on the PM and business leaders. The students were part of a dance troupe that entertained Harper during his visit to Chandigarh, and also hosted members of the PM's delegation at UFV's Chandigarh location.
Evered was joined on his trip, which ran from Nov 4 to 15, by UFV chief financial officer Jackie Hogan and Satwinder Bains, the university advisor on Canada–India relations.
With a significant amount of the population of the Fraser Valley region having ties to India, UFV's administration recognizes the importance of building ties to the Indian community, both within Canada and in India.
Since 2005, UFV has been offering its Bachelor of Business Administration degree to a cohort of students in Chandigarh, in India's Punjab state, in partnership with Sanatan Dharma College Chandigarh (SDCC), an affiliate of Panjab University. UFV also has partnerships with several other Indian post-secondary institutions. These partnerships facilitate student and faculty exchanges, student internships, and visiting scholar initiatives.
Although they were on separate trips, the UFV delegation's tour overlapped with Prime Minister Harper's trade mission to India. In addition to entertaining the prime minister at a special dinner, the UFV Chandigarh program hosted Abbotsford MP and federal Minister of International Trade & Minister for the Asia-Pacific Gateway Ed Fast and other business delegates to discuss and build on employment opportunities and connections. Paul Davidson, president of the Association of Universities and Colleges of Canada, was also part of the delegation that visited UFV's Chandigarh location. Evered reports that Davidson says that UFV is doing "incredible things" in India and that the students made a great impression on the federal delegation.
UFV is exploring ways of creating more internship opportunities for its students through new connections made with the Canadian and Indian governments on the trip.
"This trip, coinciding with that of the Prime Minister's trade mission, gave UFV the opportunity to make some great connections with several federal ministries who have interests in stronger partnerships with India, with some key Indian business contacts, and with some very influential Canadian business and R&D leaders. This can only lead to more opportunities for our UFV students, both those in Canada and those based in Chandigarh," noted Evered. "All of our Chandigarh students had the opportunity to shake the Prime Minister's hand – that speaks volumes about the connections made through this visit."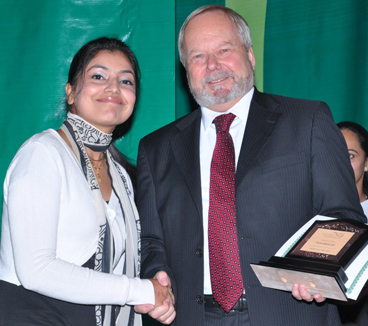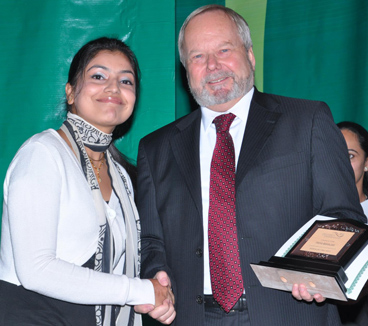 While in India, Evered, Bains, and Hogan are visiting several of UFV's Indian partner institiutions.
"Our delegation's priority was to connect with UFV India partners in Punjab and the region," notes Bains. "UFV's involvement in India is based on education, research partnerships, student international engagement, and fostering a deeper understanding of our growing connections with the north of India."
UFV students students  Adam Rieu, Stacy Thoreson, and Kathryn Shiratti are currently working in India on internships with the Association of Universities and Colleges of Canada's Students for Development program. The UFV delegation visited with them during the trip.
Former Abbotsford mayor and longtime school administrator George Peary and his wife Sylvia are currently staying in Chandigahr, where he is teaching in the business administration program for UFV. The delegation was warmly welcomed by the Pearys in India.
The UFV delegation attended an event called Canada-Connect at the Canadian Consulate in Chandigarh, hosted a dinner to highlight UFV's presence in India, and presented speeches and scholarships awards to UFV Chandigahr students at an annual awards ceremony.
They also met with the Canadian High Commission in Delhi.
–          30 –