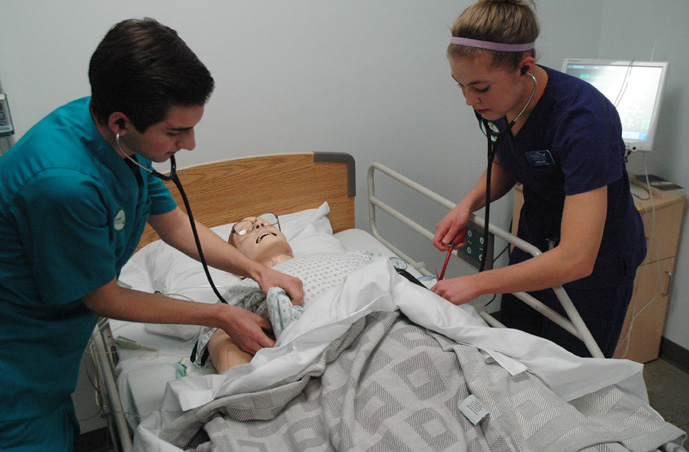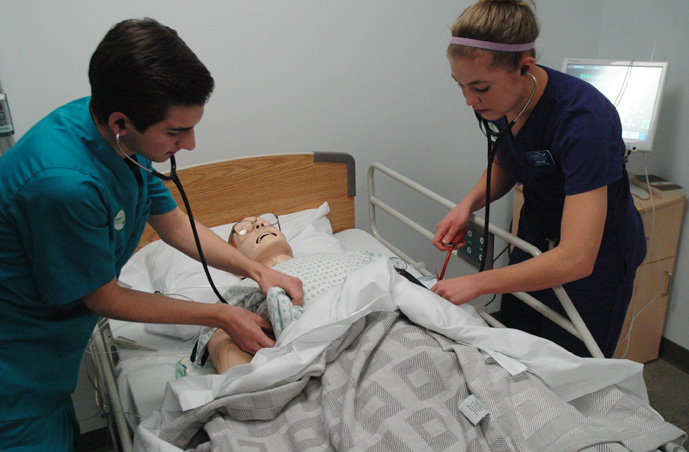 Mr. Wiens isn't feeling that well this morning. It's the day after his urology surgery, and he's experiencing a few post-op complications. But he's in good hands. Two young nurses are attending to him, checking all his vital signs, reacting to his symptoms, listening to him as he says "I don't feel so well," and responding to his questions.
The catch? Mr. Wiens isn't actually human. He is a $100,000 high-fidelity mannequin in the simulation lab at the University of the Fraser Valley's Chilliwack campus at Canada Education Park.
The young nurses are actually second-year nursing students Chelsie Christianson and Cole Gollner. They are in a phase of their studies called consolidation, where they take the theory they've learned in class and the skills and experience they've gained through their surgery clinical rotation at a local hospital, and further refine it in a lab setting at UFV.
Behind a concealed window, a team of UFV health sciences professionals are monitoring Chelsie and Cole's every move. Nursing lab coordinator Elizabeth Stadnyk is the voice of Mr. Wiens, moaning and groaning, describing his symptoms, and asking when his wife is going to arrive. Fellow coordinator Arlene Haley is at the computer, monitoring all of his vital signs and the students' reactions to them and tweaking them to further challenge them. And instructor Janice Savoy is guiding the planned scenario, giving silent directions to the coordinators to make adjustments to the situation as it plays out, based on the students' reaction to variables.
And what's extra special about today is that Cole and Chelsie are among the first students to use this extremely high-tech lab and mannequin — the first group started at 8:15 this morning. Both they and the instructors and coordinators are giving the system the first real test.
UFV had simulation mannequins at its previous location before the move to Canada Education Park. But the new high-fidelity ones are a big improvement. The students can feel the mannequin's pulse, take his blood pressure, listen to his heart, and monitor his bowels. His chest rises and falls as he breathes, and he blinks regularly. With the help of UFV staff, he talks. He can also vomit on command.
The mannequins are used in all phases of nursing training at UFV, from year one through four.
As useful as the mannequins are, human volunteers are also important in the training of our future nurses. On the same day that the students are interacting with the not-quite human Mr. Wiens, they are also participating in simulations with local volunteers Caitlynn Sherriff, Mikayla MacLeod, Cara Broekhuysen, Riley Nelmes, Jordan Dhillon, and Carol Adams. All have been given roles today, whether patient or family member, and scenarios to play out for the nursing students.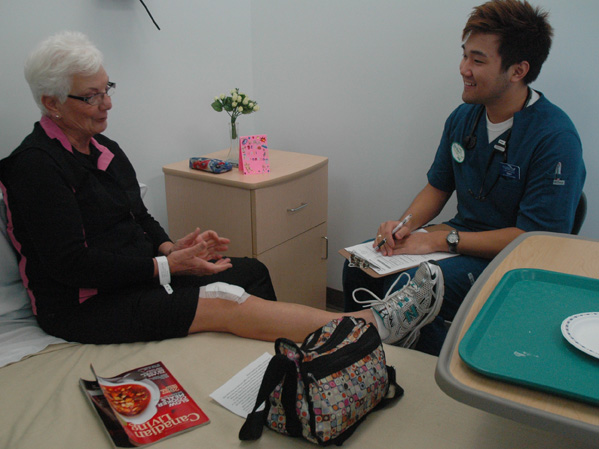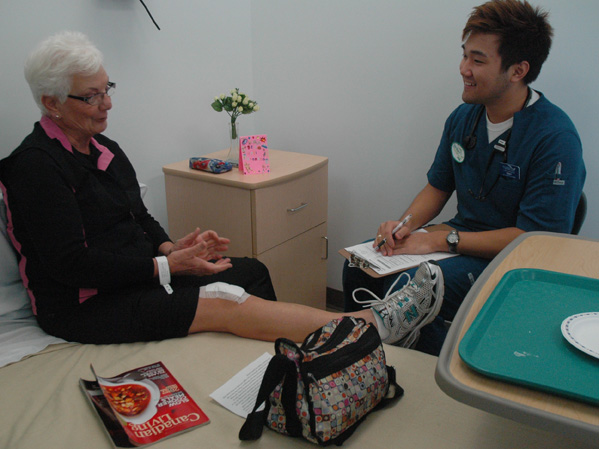 The simulations are scripted and planned by nursing faculty at UFV. Today, the instructors in charge are JoAnne Nelmes, Janice Savoy, Pam Causton, and Adele Phillips.
"The mannequin is great teaching tool because we can manipulate symptoms or signs as we go along, and hopefully the students pick up on the cues and react appropriately," says Nelmes.
The students who got to try out the mannequin on his first official day in action were impressed with the experience.
"It was interesting because you could see him blinking and his chest rising and falling," said Megan Prins. "He just seemed much more real than the ones we used before."
"It was a bit nerve-wracking, but it provided a good learning experience on how you could do things differently," said Janessa Berger. "And once his pretend family member arrived in the room, it made it seem even more real."
The community supported the acquisition of the mannequins and the outfitting of the lab through a $10,000 donation from the Chilliwack Foundation and a $2,000 contribution from the London Drugs Foundation.
"It is gifts like these that really help us to provide top-notch, state-of-the-art equipment for our students," says Hilary Beard of UFV's Advancement office. "We are very grateful for the community support we receive at UFV."