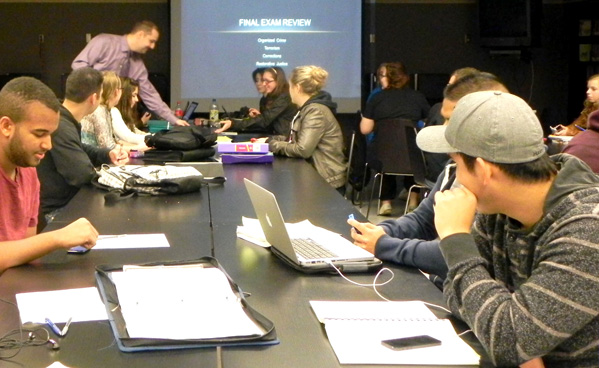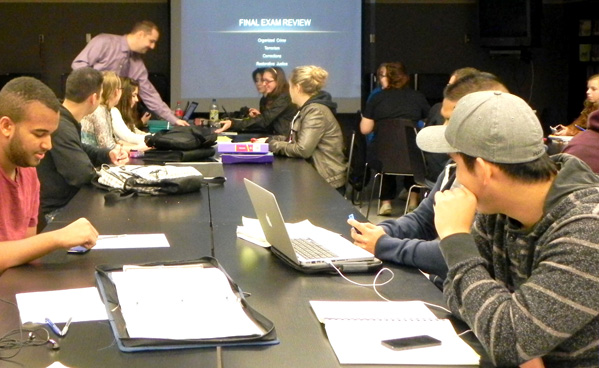 Imagine entering your first year of university with a few credits already under your belt.
Thanks to a partnership between the University of the Fraser Valley and the Fraser Cascade School District, Agassiz secondary school students are able to try university courses, earn actual credits, and get a taste of post-secondary education while still in high school.
"The students at AESS are presently enrolled in our sixth UFV dual-credit course," says Agassiz Elementary/Secondary School principal Patsy Graham. "This has been an excellent partnership for our present students, as well as past graduates."
The benefits are numerous, she adds, explaining that Fraser Cascade School District pays the tuition fees, while the students, who can start in Grad 10, earn university credits alongside high school credits. The courses have proven to be popular, often with 20-25 students in each class. And it gives them a taste of what university will be like.
"They experience the reality of post-secondary expectations in an environment where they feel comfortable," she adds. "This exposure results in our students establishing long-term goals with less anxiety about carrying on to the university setting."
UFV kinesiology instructor Brian Justin agrees that dual credit programs are a good option. Not only do the students benefit by earning credits, but they enter university with a thorough understanding of what's expected of them academically. And, he suggests, they might feel just a little bit more at ease during the transition from high school.
"I believe it provides a safe opportunity for high school students to sample university level classes on their turf," he says. "Additionally, they have the benefit of knowing a few instructors before entering the new world of UFV."
While working in the high school, he keeps his teaching methods on par with his university style, but sometimes will tailor an example to a teen setting. He says there is no need to 'dumb' down the lessons.  And, he readily admits the teenagers are not the only ones who benefit. Being able to step into a high school and teach younger students has turned out to be just as satisfying for him.
"Instructing at Agassiz has been a rewarding experience. Connecting with the youth and witnessing them transition into young mature adults ready to take on the world is an honour," he says.  "Agassiz Secondary is so warm and welcoming — I felt like I was a part of their teaching staff. This is a great program that I hope UFV continues to offer as it provides a progressive transition to university from high school."
Hilary Kennedy, who until her upcoming retirement coordinated programming for UFV in Hope and Agassiz, says the agreement between UFV and the Fraser-Cascade School District, which was finalized in 2009, has grown in popularity with each year. And it's a great way to bring experienced university instructors into the high school to teach introductory first-year credit courses.
"The goal of the program is to provide high school students with the opportunity of experiencing what life as a university student will be like, to explore a program path, and to gain the advantage of graduating with university credits in their portfolio," says Kennedy.
The high school students are only responsible for their text books and classroom supplies. Kennedy explains that a working committee, made up of UFV and School District 78 staff, meets regularly to discuss potential courses and students also provide input on which courses will be of interest.
Grade 12 student Brie Robotham appreciates the opportunity to test drive UFV courses while still in high school. She has taken two UFV dual-credit courses.
"The dual credit courses offered at AESS have been extremely beneficial to myself and others," she says.  "I have been given the chance to explore interests that I'd otherwise have to wait until I'm older to experience.  The courses have also given me a chance to take an actual university course before my time there.  It has given me knowledge on what to expect when I leave AESS, and I find it both helpful as well as exciting."
Over the past few years, UFV has offered an introductory psychology course, a first-year acting course, and three kinesiology courses that range from Active Living, to Contemporary Health Issues and an introduction to Kinesiology. A criminology course is currently running. Instructors from UFV who have taken part in the Agassiz program include Brian Justin and Joanna Sheppard of Kinesiology, Joanna Redfern of Theatre, Wayne Podrouzek of Psychology, and Kevin Burk of Criminology/Criminal Justice. Kennedy notes that all classes take place in a classroom within Agassiz Secondary and are arranged not to conflict with other extra-curricular programs.
-30-