Pennies for Playgrounds: Urban Planning, Children's Rights and Climate Change; UFV-sponsored exhibit opens Dec 6 at The Reach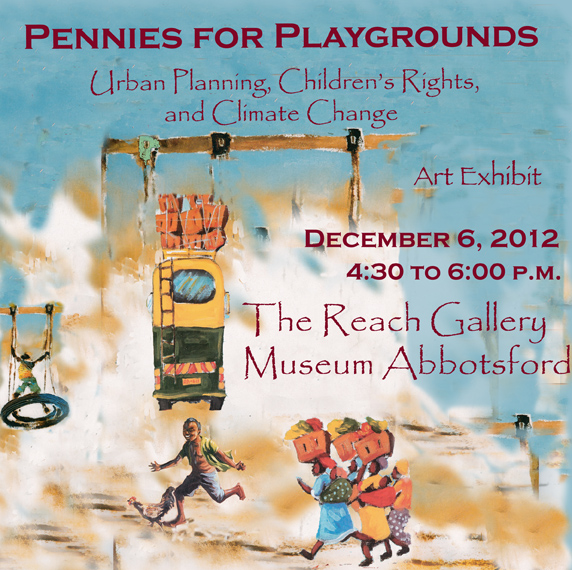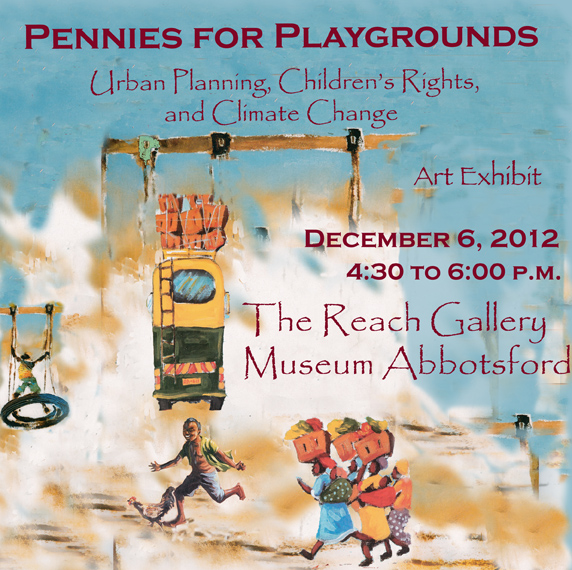 ll children deserve a safe place to play and the freedom to use the space around them to express themselves creatively. That's the underlying theme of a special exhibit launching at The Reach Gallery in Abbotsford on Thurs, Dec 6.
UFV's  Global Development Institute, along with Association of Universities and Colleges Canada and the Ardhi Institute of Human Settlement Studies will host a reception to launch the Pennies for Playgrounds art exhibit at The Reach Gallery (32388 Veterans Way, Abbotsford, BC) on Thurs, Dec 6, from 4:30-6 pm. Admission is free and open to the public. Donations to benefit the program are strongly encouraged.
Pennies for Playgrounds is a collection of work that showcases University of the Fraser Valley student projects with an emphasis on the child's voice and the right to play. A central theme will be children's perspectives on play and safe places due to relocation following flooding in one particular informal settlement in Dar es Salaam, Tanzania. There will also be maps and photos from other related UFV projects on the same themes from India and Antigua as well as a connection to Abbotsford.
The collection organizers hope that through this exhibit they showcase the resilience of children, their optimism in spite of all odds, and the spirit that connects us globally as we work to create better places for children and in the end for all of us.
Students from UFV intern every year in Tanzania. This exhibit and fundraiser is being put on by previous interns to give back to the area they studied and worked.
"Apart from showcasing student's work, we hope to raise enough money to build a safe playground in Tanzania for children that have been forced to move from their home because of recent flooding due to climate change," notes geography instructor Cherie Enns.
The exhibit will run from Dec 6 to 13 in the studio at The Reach.
For more information about Pennies for Playgrounds and where you can donate please visit http://www.indiegogo.com/penniesforplaygrounds.
-30 –