International week at UFV is packed full of fun cultural events to celebrate diversity on the Abbotsford campus.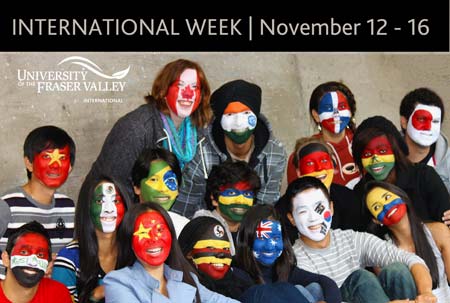 Mon, Nov 12
International tea party
Abby F110 (U-House) 1–4 pm
Visit our international tea room to sample fragrant teas from around the world. While you savour your favorites, join one of our international game tables to learn to play popular games from Japan, India, Korea, Brazil and more.
Visual Study Abroad Showcase
Abby F110 (U-House), 3–5 pm
Students who have gone abroad to study will share their experience, tell stories, and show photos.
Accommodations workshop
Abby F110 (U-House), 3–5 pm
Need accommodations for the Winter semester? Want to know what to look for before you rent? Have questions about your rights as a tenant? Come and meet with Adaly and Anish, who will be there to answer your questions and provide you with relevant information.
Tues, Nov 13
Diwali party
Centre for Indo Canadian Studies (U-House), 2:30–6 pm
As a companion event to the Diwali celebration on the Chilliwack campus, the South Asian Peer Networking Association (SAPNA) hosts a Diwali event, with traditional Indian crafts and foods on the Abbotsford campus. Come and enter the Rangoli contest: use coloured rice to create a winning design and showcase your imagination and creativity.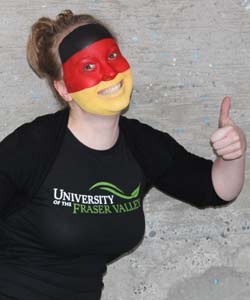 Wed, Nov 14
The Faculty of Professional Studies celebrates internationalization
Envision Athletics Centre, South Gym, 11:30 am–2:30 pm
Come for international performances followed by a reception to celebrate internationalization with the Faculty of Professional Studies.  Celebrate our diverse university community. UFV faculty members and students who have traveled to a variety of countries, or students and faculty who have come from different parts of the world to Canada, will share their "international" experiences and accomplishments.
Flavours of the world — Community Dinner
Abby F110  (U House), 4–6 pm
Sample cuisine from all over the world at this extravagant feast prepared for you by the International Student Association and UFV International.  Drop by U House and add spice to your life with this smorgasbord of world flavors, all for $2.
Fri, Nov 16
UFV International Olympics
Small gym, Envision Athletic Centre, 2–8 pm
Play sports from around the world: join a team in the South gym and compete to win gold in the 2012 UFV International Olympics. Details to come.