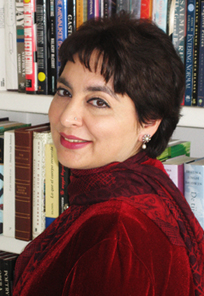 A renowned Indo-Canadian author now living in the United States will return to the University of the Fraser Valley for the third time in five years to read from her latest work on Wednesday, Oct 10.
The free reading will take place at 7 pm in the Centre for Indo-Canadian Studies, in Building F, also known as University House, on the Abbotsford campus.
Shauna Singh Baldwin's special relationship with UFV began her novel What the Body Remembers was selected as the book of choice for UFV Reads, a university-wide book club in 2007. She also visited UFV in 2010.
Baldwin returns as a guest of UFV's Centre for Indo-Canadian Studies as she launches the first book tour for her new novel, Selector of Souls.
"Shauna continues to be a good friend of UFV and we are very pleased that she has initiated this visit with us on the first round of her cross-country tour," says Satwinder Bains, director of the Centre for Indo-Canadian Studies at UFV.
Baldwin's latest novel has been referred to as a deeply imagined, enthralling work, where two fascinating, strong-willed women deal with the relentless logic forced upon them for survival:  Damini, a Hindu midwife, and Anu, who flees an abusive marriage for the sanctuary of the Catholic church.
Shauna Singh Baldwin's first novel, What the Body Remembers, is the story of two women in a polygamous marriage in occupied India. It received the Commonwealth Prize for Best Book (Canada-Caribbean). Baldwin's second novel, The Tiger Claw, is the story of a Sufi Muslim secret agent searching for her beloved through occupied France, was a finalist for Canada's Giller Prize and has been optioned for film.
English Lessons and Other Stories received the Friends of American Writers prize. Baldwin is co-author of A Foreign Visitor's Survival Guide to America.
This is a free event and all are welcome to attend. (Pay parking is in effect at UFV. The closest parking lot to Building F is off of McKenzie Street.) Shauna's book is also now available at the UFV bookstore.
–          30 –