UFV hosts a graduate seminar about global leadership with Swiss partner university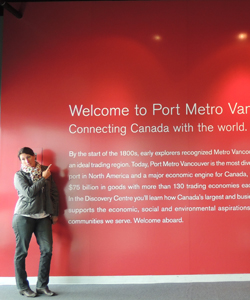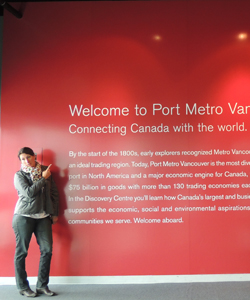 From September 19 to 26, 2012, UFV hosted a graduate seminar in conjunction with the Institute of Management and Regional Economics (IBR), Lucerne University of Applied Sciences and Arts. As part of the IBR Lucerne CAS International Leadership and Executive MBA programs, 16 Swiss MBA students and three senior UFV business students attended a series of lectures, site visits, and tours to enhance their knowledge in the areas of global leadership and trade in the Asia Pacific region. 
As the Canadian gateway to Asia Pacific's rapidly growing markets, Vancouver is the perfect laboratory to study the economic and socio-cultural factors that govern leadership in the context of globalization. The week-long seminar — Leadership in the Context of Globalization: Vancouver, Canada's Asia-Pacific Gateway — outlined key concepts to help students understand business trends and tackle the rapid pace of development in this thriving region. 
The group met with officials from the Port Metro Vancouver, the City of Richmond, the Canada-India Business Council and the Vancouver Board of Trade to discuss the ins and outs of building strong business networks in East and South Asia. Garaventa Lifts, an award-winning Surrey company with Swiss roots, hosted an open factory tour that provided visiting students with practical insights into the world of international trade. Experts from UFV, UBC, SFU and the University of Regina provided workshops and academic presentations.
UFV's president, Dr. Mark Evered, and his wife, Maureen, hosted a farewell dinner at their home for the students on their last day. UFV's Elder in Residence, Theresa Neel, welcomed the group to Sto:lo First Nations territory, with drumming and a blessing.
"The International Week was very well organized," says Jillaine Farrar, Co-Head CAS International Leadership IBR. "The speakers were excellent and the locations chosen in Vancouver and Richmond were ideal for executive education seminars."
"UFV gratefully acknowledges our co-sponsors," says John Potts, UFV's Manager of International Partnerships. The support from the City of Richmond, Prospera Credit Union, Garaventa Lifts, Port Metro Vancouver and the Swiss-Canadian Chamber of Commerce was key in making this event a success." 
Following favorable feedback from participants, the team has started to plan next year's event, which will take place in early fall 2013.