More about the bands playing at Come See What's New @ Your U on Thurs, Sept 20: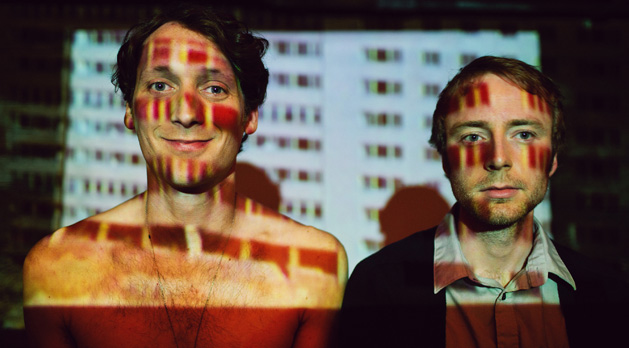 The Zolas
After debuting with Tic Toc Tic in 2009, The Zolas scaled the precipice of cult status across Canada, thanks to a loyal fanbase carried over from Zach Gray (vocals, guitar) and Tom Dobrzanski's (piano) earlier years as Lotus Child. With Ancient Mars, their second album, The Zolas are set to continue their legacy of postmodern pop. Armed with poetic lyrics, Ancient Mars trades in the cabaret glitz of Tic Toc Tic for reverbed pianos and hard, minimalist beats. In "Strange Girl" a sunny guitar riff blasts into the perfect mid-'90s summer jam, while title track "Ancient Mars" is bouncy and nostalgic, with heaping spoonfuls of Montreal and Brooklyn avant-pop. If John Lennon and Kanye West met later tonight at a hotel bar, "Escape Artist" is the song they would write. It's these kinds of pairings that Ancient Mars is full of: The Zolas write classic pop songs and then work with them until the hooks have to fight to get out. As if to offset Ancient Mars' aesthetic diversity, the lyrics are raw and focused. The Zolas' tumultuous songwriting captures the zeitgeist of being in your 20s, on the cusp of youth and real adulthood. In each song Gray builds a skeleton of a setting – from outer space to a college library to a Victorian jail cell – and tells stories fleshed out with the listener's own history. In October, The Zolas teamed up with Winnipeg's The Liptonians to release a 7" split single "Cultured Man", a quixotic snack in between the two full-length albums. Dobrzanski is the band's on-board producer, having worked with names in indie-rock royalty like Said the Whale and We Are The City, but for Ancient Mars production duties were handed over to Chuck Brody (Phantogram, Wu-Tang), much like how 2009's Tic Toc Tic was produced by Howard Redekopp (Mother Mother, The New Pornographers). Ancient Mars will make its way onto record store shelves in late summer 2012.    thezolasmusic.com      Written by Esther Tung
The Matinée
Their bio describes them as "a long established uproar of stomping, clapping, and blazing chops," The Matinée is a five-piece Vancouver band that describes themselves as fleet-country-rock, somewhere between "Tom Petty and Joel Plaskett." Their mix of folk rock, roots, and southern rock makes them accessible to a wide range of audiences. The group of life-long friends has toured across Canada, and been featured on numerous radio stations along the way. Learn more about the Matinée and their music at thematineemusic.com .
The Pink Slips
David Murray set sail to Vancouver Island where he lived on a farm last year, over which time he wrote and recorded 20 albums worth of demos, bursting with impassioned poetic lyricism. His friend David Orr came for a visit and expressed interest in learning the bass. Shortly after, childhood friends Sean Nowak and Jeremy Phillips were enlisted as the tambourine man and the drummer, respectively. The pink slips have recently added a second guitarist and vocalist, Yasmina Havlicek. She is a classically trained musician who has played guitar for over 10 years. Playing a mash up of Rock and Roll, Indie, Blues, Grunge, and bits of World Music, recorded in Phil Spector's Wall Of Sound fashion, Pink Slips have been independently promoting their band and booking shows across the Lower Mainland. The goal is to create positive, amazing, heart-felt, and dangerous rock-and-roll.