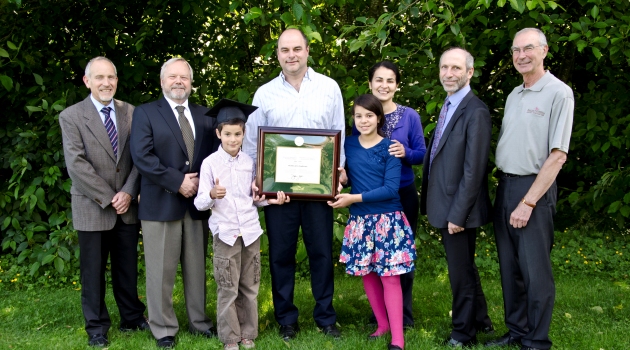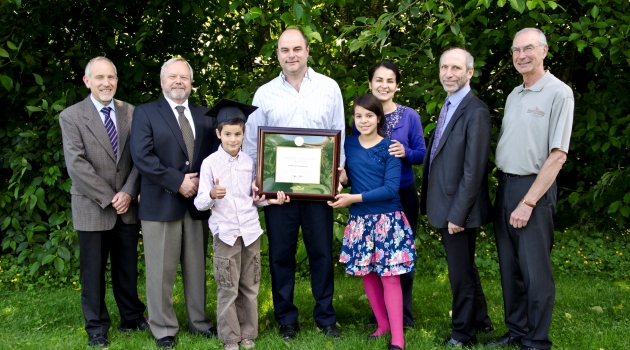 After Ricardo Jahns Gigglburger graduated with an engineering degree and a Master of Business Administration, he thought his schooling was over.
It seemed, however, that school was not quite done with him.
"I discovered Computer Science when I was about to finish my Engineering degree, and I immediately knew that computers would be my passion," Ricardo explains. Discovering this passion could not have come at a worse time. On the brink of graduation, Ricardo made the choice to continue on his current path rather than start from scratch again.
Instead, Ricardo pursued Computer Science as a hobby — a hobby, he says that would last forever. Almost twenty years later, he has graduated from UFV with a degree in Computer Information Systems (CIS) and won an academic medal for his studies.
This major career turn came in 2005 – fifteen years after Ricardo graduated as an engineer. Ricardo and his young family decided to immigrate to Canada, and as he found himself starting from scratch, his thoughts turned once again to his oldest dream: computer science
That dream expressed itself through the CIS degree program at UFV.
Ora Steyn (now the head of UFV International, but then a CIS professor), met with Ricardo personally to encourage him to return to university studies and pursue his dream. She saw potential in Ricardo, and knew that the blossoming IT field was a perfect fit for the returning student.
Although Ricardo had also received a job offer from Canada Revenue Agency (CRA), he decided instead to return to school. The choice between the two was tough, but his family and UFV encouraged him to follow his dream.
"I was faced with a huge dilemma: do I take the job in an excellent working environment with great potential, or do I forfeit that chance to continue pursuing my IT dream?" Ricardo explains. "It was a very tough call. Ora made that decision way easier with her passion for UFV, and it was ultimately solved thanks to my family's encouragement."
Luckily, UFV was able to count credits from his previous university experience towards his CIS degree, which allowed Ricardo to focus entirely on computer courses.
From the very start, Ricardo says, the program welcomed him with open arms.
"The CIS program at UFV has the right mix of knowledge fields; in that sense, it is unique," Ricardo explains. "It gives the graduates a wide knowledge base from where to draw from in the future, while at the same time providing core concentration fields for those that want to be more of a specialist."
Ricardo not only completed his degree and graduated this past June, but received the Governor General's silver medal: an honour that means he had the highest GPA of any student graduating with a bachelor's degree at UFV.
Ricardo is quick to share this award with everyone that helped him on his path.
"This award is not only a recognition of my efforts but also – and perhaps more so – to the extraordinary learning environment that UFV has to offer," Ricardo says. "I will always remember the close relation with faculty. That personal, close relation with the instructor multiplies the learning factor tenfold."
With his CIS degree under his arm, Ricardo has decided to continue his education and dream even further. He's heading off to graduate school at SFU, where he'll be studying the field of artificial intelligence: a topic that's been "his wildest dream" since he was a kid.
Finally, Ricardo hopes to return to UFV.
"I want to contribute to this great and welcoming country as much as I can, especially in a field that could have so much impact in the future," Ricardo says with a smile. "It would be my pleasure and honour to be able to give back to this institution and its community by teaching here in the future."