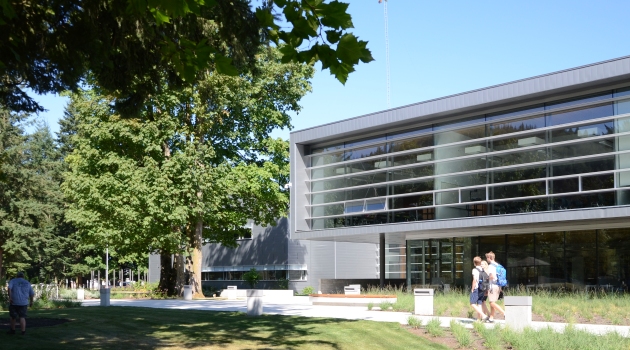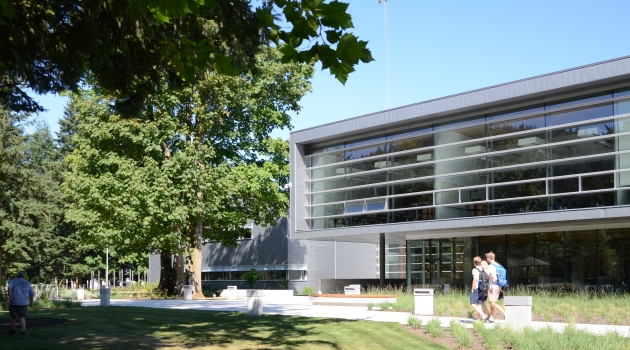 Renovation and renewal are the cornerstones of Phase II of the UFV Canada Education campus, helping to redefine the buildings and bring a new vision the university.
Having previously been built as  a military engineering school, the challenge was to repurpose, renovate, and expand this building to create an exciting and vibrant new campus for UFV; one that expressed the future and value implicit in the UFV vision.
Joining the university on its journey over the past three years has been Stantec, an integrated architectural and engineering firm with offices across B.C.
"Given that this was a renovation project, it was vital that we work closely with students, faculty, staff,  and other users to define their vision of the new campus," said Darren Burns, Principal, who oversaw the project on behalf of Stantec.
"Our team worked hard to ensure a smooth integration of the existing buildings while also capturing the exterior courtyard as an internal space. The buildings now have an atrium that links them together with a new life and purpose."
Stantec's contribution to the project includes architecture, interior design, mechanical engineering, electrical engineering, civil engineering, structural engineering (in conjunction with Equilibrium Consulting Inc.) and landscape architecture.
The result is a new campus that boasts kinesiology, early childhood education, dental and nursing labs, classrooms, offices, a performing arts studio theatre, library, student union, and an aboriginal gathering hall.
"In order to achieve the results we have today, we took a collaborative approach. At Stantec, we are fortunate to have a varied range of experience and expertise within our team," Burns added.Phase II of the UFV  Canada Education Park boasts not only an integrated and cohesive campus, but the new buildings also have been registered LEED® Gold status, with certification to follow after occupancy.
LEED® certification is an internationally recognized benchmark for green building design, construction and sustainability. Managed by the Canada Green Building Council, LEED® outlines new construction guidelines and measures results using a point-system in six areas — sustainable sites, materials and resources, water efficiency, indoor environmental quality, energy and atmosphere and innovation.
"We hear a lot about sustainability but I'm not sure people realize the impact," Darren continued. "At Stantec we focus on creating buildings that not only have minimal environmental impact during construction, but that maintain this minimal impact over their lifespan."
Looking ahead, Stantec is excited about seeing the new Canada Education Park Phase II campus building come to life when students and faculty begin using it this Fall.
"Having been involved in the project from such an early stage, and having worked so closely with students and faculty on every design detail, we are looking forward to seeing the campus come to life," said Burns. "We are also proud to have been part of something that will be a vibrant learning environment in Chilliwack for years to come."
This article originally appeared as part of a UFV on the Move supplement in the Chilliwack Progress.