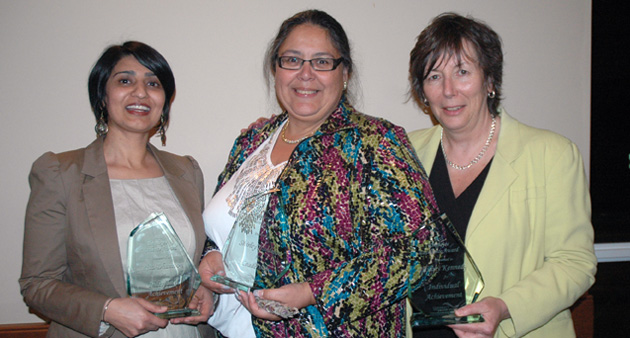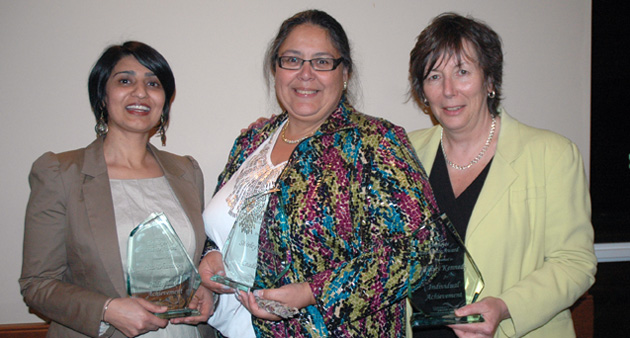 Three outstanding UFV employees were honoured recently in the inaugural Employee Excellence awards. The awards recognize and celebrate employees who have inspired others through their outstanding achievement within the university and/or their community.
Hope centre coordinator Hilary Kennedy, senior advisor on indigenous affairs Shirley Hardman of Chilliwack, and political science professor Rita Dhamoon, based at the UFV Abbotsford campus, and were all honoured at a recent ceremony.
Individual achievement award – Hilary Kennedy, Hope Centre coordinator
UFV's presence in the community of Hope is not a large one, but thanks to the 'larger than life' efforts of UFV's lone employee there, it's hard to for the rest of the university ignore the fact that UFV has a Hope Centre, and for the Hope community to forget that it has a university in its community.
Although various instructors travel to Hope to teach, Hilary Kennedy is a one-woman show when it comes to instructional support, community relations, assessment services, liaison with other departments, registration, bookstore, and clerical tasks.
Kennedy is a consistently enthusiastic voice for UFV in the Hope community. She knows the people of Hope well, having lived there for many years. She represents UFV simply by being out and active in the community, and has greatly enhanced recruitment and retention at the Hope Centre during her seven years there.
Even before joining UFV as an employee, Kennedy had a connection to UFV, working with us in partnership through Free Rein, a private educational service, and serving on the UFV Board. She has also been a member of Hope Council.
As UFV Hope centre coordinator, she helped broker a deal that saw the centre move to a property owned by the school district, which led to a closer partnership and more funding for post-secondary programming in Hope.
She advocates for post-secondary and Continuing Studies in Hope, and works with the community to find out what kind of programming they want, and helps to coordinate the offerings when she is successful.
And she nurtures Hope Centre students, creating an inviting and safe environment for them, and goes beyond the call of duty by providing home-made soup on a regular basis, and organizing games, crafts, and guest speakers.
Kennedy was nominated by Upgrading and University Preparation department assistant Ruth Vandenbor, who spotted an unsung hero working quietly far away from our larger campuses.
"I think Hilary is most deserving of this award," said Vandenbor.
Shirley Hardman of Chilliwack  — Leadership award
In more than a decade of working for UFV in the area of aboriginal access and indigenous affairs, Shirley Hardman has done much to help the university become more welcoming to aboriginal students and the aboriginal community. She has also worked hard to make UFV programs and course curricula more inclusive and reflective of indigenous content.
Hardman facilitated the growth of the Aboriginal Access Centre from a one- to a two-campus operation (expanding to Abbotsford), and led the move of the Chilliwack centre  into a larger space complete with classroom, kitchen, and computer lab. During this time S'olh Shxwleli (Aboriginal Access) grew from 1.5 to 4.6 staff. Soon she will see the Chilliwack centre move to a beautiful new First Nations long-house themed quarters on the Canada Education Park campus, a facility that she successfully garnered government funding for.
Responding to community requests, Shirley helped bring Halq'emeylem language classes to UFV in the form of credit classes.  She has also facilitated the development of an Aboriginal Culture and Language Support diploma to provide training and credential to aboriginal support workers in the school system, and the Honouring Our Gifts certificate, a visual arts credential in carving. More recently she helped to create the Lens of Empowerment project, giving students the opportunity to explore women's identity and citizenship in Sto:lo territory through video and photography. She also ran an Elder in Residence program providing services and teachings for students and employees.
She has coordinated lecture series, events, and guest speakers on topics related to indigenous peoples.
Between 2002 and 2007, was the key contact for proposals to the Ministry's Aboriginal Special Projects, securing more than three-quarters of a million dollars, including funding for the strategic planning of aboriginal education at UFV.
Since becoming senior advisor on indigenous affairs, Shirley has worked with academic and service departments to help them indigenize their curriculum and practices. She chairs the Indigenous Studies Advisory committee, co-founded the Indigenous Scholars Network, sits on the Sto:lo Community Futures Board, and is chair of the Skemcis Medicine Lodge Society.
Dr. Rita Dhamoon — Individual Achievement award
When people are hired to be faculty members at UFV they are of course hired to teach, but they are also expected to make some contribution to university life in the form of community outreach and/or research.
While a few might do the minimum amount necessary, others go far beyond the call of duty and truly engage with their university and its many community stakeholders.
Dr. Rita Dhamoon is one of those special people who exhibit exemplary dedication to their duties outside of the classroom.
Hired to join our Political Science department in 2008, she quickly established herself as someone interested in sharing her knowledge and passions through special events, activities, and committees.
Starting as a speaker at anti-racism events, she was soon a de facto co-chair of the Race and Anti-Racism Network, helping to orgainze a PD Day on this topic in 2010.
As a member of the Research Advisory Council, Rita worked tirelessly to organize a university lecture series, highlighting the research of UFV faculty members. She also helped initiate the UFV Microlectures, in which several faculty present "speed lectures" of two minutes or less.
Rita has also been involved in the Indigenizing the Academy and Scholarly Sharing Initiatives. The former is aimed at making UFV programs and services for reflective of indigenous culture. The latter is an informal avenue for faculty to share their scholarship and research findings with their peers.
"Rita works hard through her service work… to build different kinds of communities," noted Dr. Adrienne Chan in her nomination document. "She has excellent organizational and interpersonal skills. Her commitment to the professional development and UFV community events are connected to her commitment to the role of the university in the wider spectrum education. Education does not simply take place in the classroom — it occurs in the wider forums on campus and in the community."
In addition to her teaching and community service initiatives, Dhamoon is also a busy scholar in her field of political science. Her book Identity/Difference Politics: how difference is produced and why it matters, was published in 2009 by UBC Press.
She is active in her field organizationally beyond UFV, and also works with other groups at UFV such as Student Life to guide and mentor students.
"Rita is a person who is always doing 'extra' because she has a strong commitment to community work, to social justice initiatives, and to the creation of a more diverse, enlightened, and equitable workplace," noted Chan.
Dhamoon's department head, Dr. Hamish Telford, concurs with her selection for an employee excellence award.
"Rita is an outstanding teacher, an excellent scholar, and a dedicated citizen of this institution. Above all, she has been a fabulous colleague and a wonderful friend for all who have had the privilege of working with her. How she finds the energy to undertake this work over and above her teaching and research is beyond me. It is truly remarkable."
This article is featured in the Spring 2012 issue of UFV Skookum magazine.