New Continuing Studies course focuses on understanding and identifying violent tendencies in youth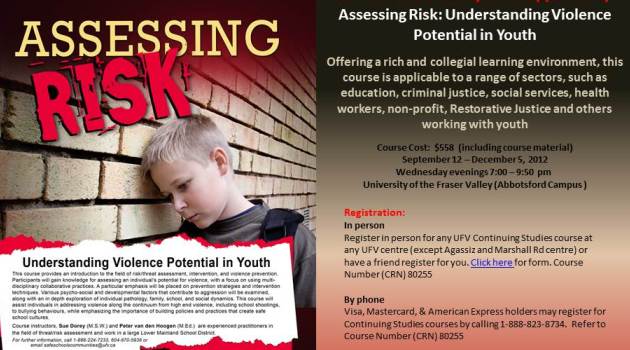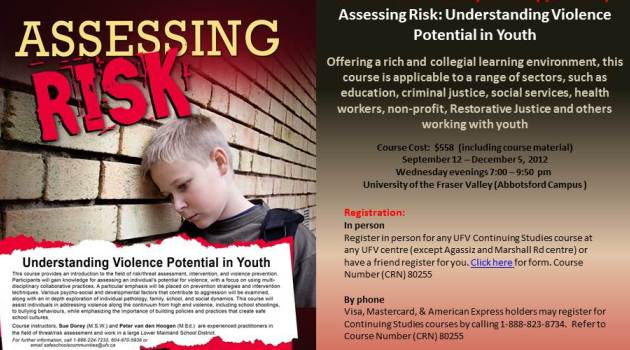 The relationship between violence and youth is one of the many topics that will be discussed in a new Continuing Studies course at the University of the Fraser Valley (UFV) this coming fall.
Assessing Risk: Understanding Violence Potential in Youth is constructed for students, counsellors, professors, social workers, and anyone who works with youth, and will help professionals identify youth at risk.
The course, which will run in Abbotsford from Sept 12-Dec 5 on Wednesday evenings, will focus on the evolution of violent behaviour in youth, and explain to the students what signs are worrisome and which are harmless.
The key to this course is the fact that it deals with a scale of violence — from name-calling, to bullying, to incidents such as the Aurora shooting earlier this summer.
"Often courses are built around school shootings, which is a very rare occurrence," notes Peter van den Hoogen, one of the course instructors. "Instead, this course will help participants view individuals from a lifespan approach, and identify factors that may lead individuals to act aggressively."
The course will be taught by two instructors: Peter van den Hoogen (M. Ed.) and Sue Dorey (M.S.W.), both of whom work in a large Lower Mainland school district. The course format will involve placing the students in cohorts to tackle the modules as a team.
Teamwork skills will be important for anyone who will need to recognize violent tendencies in youth, van den Hoogen notes, since it takes more than one set of eyes to correctly identify youth at risk.
"Too often leaders can influence the opinions of others during the risk assessment process," van den Hoogen explains. "Multi-disciplinary teams are only useful if it is truly a shared conversation. Those are the skills we hope to help develop in this course."
The class will also include thorough instruction and practice in interviewing — a skill that van den Hoogen says many may think they are highly competent in, but is something that requires continual practice and refinement.
Whether they work solo or with a team, van den Hoogen adds, the skills taught in the course will prove useful to any professional who deals directly with youth — from probation officers to students.
"Many people seek professional development of this kind on a regular basis," van den Hoogen notes. "It's a necessary measure in order to keep up with changing trends in youth culture."
For more information about the course or instructions on how to register, visit http://www.ufv.ca/Continuing_Studies.htm or email Annette.Vogt@ufv.ca.