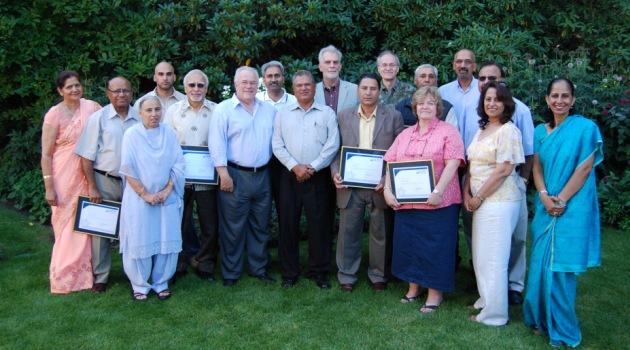 In this day and age, the dreams of a university don't take flight without a solid foundation of community support. So when the Indo-Canadian community approached the University of the Fraser Valley (then UCFV) started to look into developing courses, programs, and community outreach initiatives in the area of Indo-Canadian studies in the early 2000s, university administrators knew that this was an initiative that would have the community support necessary to be successful.
And the community rose to the challenge. In 2004 a group of committed individuals undertook to raise funds for the development of a BC Regional Research Chair at UFV. The Government of BC, in a bid to attract world-class researchers and to strengthen BC's position as a centre of excellence in research, offered a matching program for donations from private individuals and organizations. Upon learning of this initiative, a few individuals met with UFV senior management and worked on a plan to raise $1.25 million, which would qualify for matching under the BC Leading Edge Endowment Fund (LEEF) program.
The volunteer fundraisers were confident about their goals because higher education is a cause strongly embraced by the largely immigrant community of Indo-Canadians in Abbotsford and beyond. From the start an overwhelmingly positive response brought forth excellent results both from individuals and corporations. After a year and half of going door-to-door, making personal requests and numerous presentations, the funds were committed and the committee rested, secure in the knowledge that the monies would be put to good use in the immediate future and that many generations would benefit from their efforts.
As the UFV employee responsible for the fundraising campaign, Madeleine Hardin has nothing but treasured memories from her experience. "Working on the campaign to raise money for the CICS endowed chair was pure joy. I regard that time as a gift to me as I got to know dedicated and committed community volunteers and countless donors and supporters who worked tirelessly next to me. I discovered the extraordinary hospitality, generosity, and compassion of the South Asian community in Abbotsford and the Lower Mainland. Every time I walk into the centre I feel a gratitude wash over me as the community really did create this space of learning, research and community."
Fundraising for the Chair ran parallel to UFV's commitment to initiate a new Centre for Indo- Canadian Studies tasked with housing, among other initiatives, the community-funded BC Regional Innovation Chair on Canada India Economic Development. The individuals who gave their valuable time and energy to this worthwhile effort did not ask for any praise; however, it is fitting to suggest that without them UFV's engagement with the Indo Canadian community locally, across Canada and into India would not have become a reality.
In 2006 at the official opening of the Centre for Indo-Canadian Studies, newly appointed director Satwinder Bains said, "People don't give money to causes they don't believe in, so the strong show of financial support is a real indication that the community believes in the potential for UCFV to be a leader in the development of Indo-Canadian studies and a facilitator of strengthened economic ties between Canada and India."
The fundraising committee continues to be involved with UFV through the centre as well as in other ways. Their commitment these past eight years has only grown stronger and they are always willing to come forward and support the university. UFV's position as a leading centre on Indo-Canadian studies is well recognized here in Canada as well as in many parts of the world, and the rewards have been many for students, faculty, and the community at large. A commitment of a few individuals turned a dream into a reality and this reality is one of UFV's greatest assets. It is a testament to UFV's commitment to provide the best undergraduate education to our students.
UFV sincerely thanks the volunteer members of the CICS fundraising committee: Parm Bains, Paul Wadhawan, Tok Herar, Norm Sangha, Dr. Malwinder Singh Dhami, Andy Sidhu, and Balbir Mahil.
This article is featured in the Spring 2012 issue of UFV Skookum magazine.