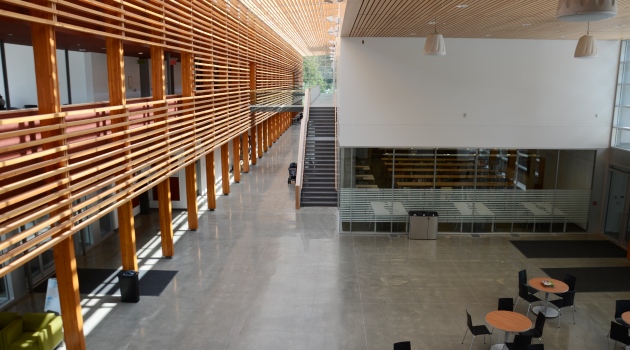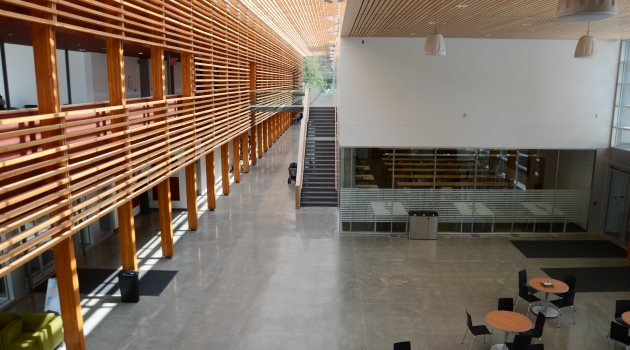 Welcome to the new building at Canada Education Park!
The new building at Canada Education Park is a 150,000 square-foot facility. Half of the facility is new construction (library, dental clinic an classrooms, faculty offices) and the remainder is a repurpose of an existing Military Engineering  School building at the site. Come on in! Take a tour! You won't want to miss a thing.
Atrium
The atrium was designed based on a "town square" community concept.  The previous outdoor courtyard was incorporated inside the new building to take advantage of natural light.  BC wood (fir) was used in the structure and finishes to soften the interior.
Library
The new library is double the capacity of the previous facility at the Yale Road campus.  It integrates the Learning Commons (Writing & Math Centres, Educational Technology Services, Information Technology Services, Teaching & Learning) with the addition of a teaching computer lab that will be shared by various programs. The space features radiant heating from the floor.
Admissions & Records, Financial Aid, Student Services
An integration of Admissions & Records, Financial Aid and Student Services in a central location contributes to a front-door experience that makes it easier for both students and visitors to access these departments. Classrooms have been purposely distributed around this office area to provide for future expansion.
Bookstore, Cafeteria, Disability Resource Centre, and Assessment Services
The bookstore, cafeteria, and outdoor patio create a social area for students and other users. The Disability Resource Centre and Assessment Services are just around the corner.
CERA and Elder College
The Centre for Education and Research on Aging (CERA) facilitates a collaborative process between educators, researchers, practitioners, students, elders and caregivers in the Fraser Valley to learn more about the issues of the aging process.
Elder College provides adults over the age of 50 with access to educational and learning opportunities to enrich life and expand knowledge.
Human Performance Centre – Kinesiology and Physical Education
Kinesiology, part of the Faculty of Health Sciences, is relocating from the Abbotsford campus. KPE is a strong complement to the health and wellness  theme at the new facility. The Human Performance Lab includes an EEG lab, environmental chamber, and teaching lab. The close proximity to the RCMP facilities offers great opportunities for collaboration.
Aboriginal Access Centre and Gathering Place
The entire wing was developed in consultation with the Aboriginal community. The design is symbolic of a longhouse including many smaller spaces for family units and one larger space for community gatherings.
The gathering place is configured for traditional-style presentations and can hold approximately 200 people. The recessed floor resonates with a connection to "mother earth".
Upgrading and University Prep, Learning Commons
The area is configured for cohort learning. The Learning Commons includes Writing and Math Centres, Educational Technology Services, Information Technology Services, and the Teaching and Learning department.
View classrooms
The view classrooms are a great example of the new facilities green features: open-source geo-exchange (heating and cooling), solar thermal (preheat domestic hot water), light harvesting (dim/off lights in public spaces when enough natural light), storm water reuse (courtyard). Energy modelling projects 60% energy reduction from the current Chilliwack North campus.
Dental Clinic and classrooms
The Dental Clinic and classrooms include a wet lab, trimming lab, and radiography lab. In the clinic area, there are 12 dental stations (approximately $25,000 each) and a waiting area for patients. Many Health Sciences programs at UFV serve the public as part of the teaching experience.
Nursing labs, simulation and control rooms, and classrooms
There are four large nursing labs with new beds and equipment.
Simulation rooms feature high tech simulation dolls that provide a very realistic diagnostic experience for students. Control rooms view medical scenarios from a separate area while students diagnose. Simulation is recorded and can be debriefed in a nearby classroom.
Group study area
This area provides students with a study space equipped with comfortable furniture and room for group study sessions.
Laboratories
There are two Level 2 Biology wet labs, one Chemistry lab and multiple dry labs shared by various departments on campus.
Black box theatre
This space can be used for teaching, rehearsals, performances, lectures, and events. The theatre can accommodate audiences from 80 – 100 people in a variety of configurations. The sprung floor can be used for physical education and dance.
Outdoor patio
Student Life and the Student Union Society share space on the bottom floor with an entrance to an outdoor patio area. Concrete seating on the grassy knoll provides for outdoor study and campus activities.
This list originally appeared in the UFV on the Move supplement in the Chilliwack Progress.